Try This: Breakfast Bowl at Tupelo
The Asheville-based eatery shines during the morning hours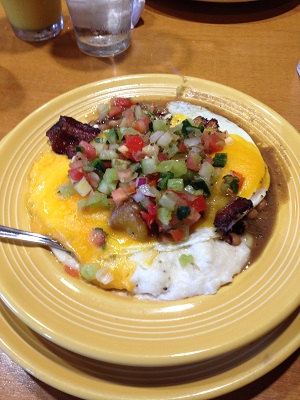 On a rather chilly Saturday morning, my dining companion and I trekked to Tupelo Honey — anxious to try breakfast at the Asheville-based eatery. I had previously eaten breakfast at the original restaurant in Asheville, but had yet to try the Charlotte location's take on the "most important meal of the day."
My manly companion was starving, and started his breakfast with the Golden Retriever ($6); a bloody mary-like concoction of roasted yellow tomato and garlic "juice", a draft lager, and a lime salt rim. He loved it — I did not. I found the mixture much too garlicky for the morning hours; plus, the beer was not my favorite flavor mixed with the roasted tomatoes. To each their own.
For the main event, my companion ordered the sweet potato pancakes ($7.95) which he topped with fried chicken (+ $5.95). The pancakes are famous for a reason. Fluffy yet decadent, sweet, and seasonal. The chicken on top was an added bonus. The outside was crisp and crunchy while the meat stayed moist and flavorful.
For me, I opted for what I thought would be the less decadent option. I ordered the breakfast bowl ($9.95); a combination of black-eyed peas and sunchoke salsa over top goat cheese grits, eggs, and bacon. The presentation of the bowl left something to be desired, and the texture was all soft and no crunch. However, the taste was comforting, yummy, and provided a different take in each bite. I should mention that I only got through about half of the dish, as it was also incredibly filling. On a cold day, I'd definitely recommend it with a warm cup of tea or coffee.
Tupelo Honey serves brunch and breakfast items all day, every day. They open at 8 am on weekends and at 11 am on weekdays.