Try This: Crawdad Fritters
The Summit Room offers a twisted classic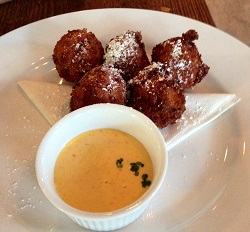 There are lots and lots of twists on southern classics at The Summit Room on East Blvd, but sometimes one or two standouts warrant screaming into cyberspace for others to try them. The crawdad fritters are one of those standouts.
Opened as a salute to triumph and inspiration, The Summit Room takes southern dishes and tilts them in a way. The country pate, for instance is served on a golden waffle and the deviled eggs are topped with ghost pepper syrup.
The crawdad fritters combine sharp cheddar cheese, small pieces of crawdads, and a slightly sweet batter. The concoction is deep fried until nearly dark brown, then topped with powdered sugar. If you've never made fritters, these may inspire you. Batters are simple and usually combine flour, sugar, salt, eggs, milk, and the ingredient of choice (apple fritters, corn fritters, and zucchini fritters are probably the most popular). The batter is then scooped into small balls and fried.
But maybe that powdered sugar topping is throwing you off. Honestly, most of us wouldn't think to combine powdered sugar over a fritter featuring seafood and cheese. Fortunately (and, maybe, surprisingly) the sweetness serves to heighten the other flavors. Additionally, the peppadew aioli flanking the fritters serves as a bright and almost sour foil for the appetizer.
So, leave the southern comfort zone and order these bad boys during your next trip to The Summit Room. You won't be disappointed.