Try This: Scallops at Nan & Byron's
The seafood treat gets a boost from autumn flavors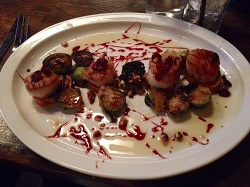 On a recent trip to Nan & Byron's to test out the new fall menu, I was struck by the number of new dishes added to the ever-evolving list of food served at the South End eatery.
Appetizers now include an amazingly gooey and delicious burrata salad (you know – the runnier mozzarella) with white wine poached pears and roasted plums; a porcini mushroom ravioli which seemed more spring-ish with its fresh peas and herbed ricotta; and a GIANT Charcuterie board, complete with a choice of four cheeses (or all four!) and four meats (again, you can get all of them!). This is not your "average" meat and cheese appetizer. The huge plate is definitely enough to serve four people comfortably.
The star, however, was definitely the scallop entree. Pan seared scallops are arranged on a long, oval plate to sit atop dallops of sweet potato puree. Around the sides of the dish, caramelized brussel sprouts, red wine bloomed cranberries, spiced candied walnuts, and brown butter sauce create a very autumn-colored dish. All of the flavors work beautifully together – much to my surprise, as I'd never really thought about scallops (being delicate in flavor themselves) as able to compete with the heavier traits of fall eating.
Head to Nan & Byron's for a nice warm up during this chilly weather!