Try This: The Godfather at Pizza Peel
If you don't know, you should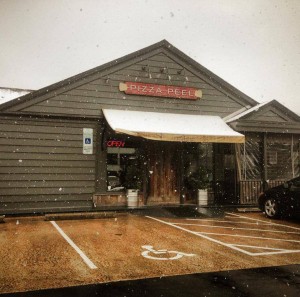 If you weren't aware (I wasn't), it's National Pizza Day. In honor of the cheese, dough, and sauce that gets just about everyone in a good mood, we decided to spotlight a pie in Cotswold.
The Pizza Peel & Tap Room, which opened in 2008, has a large menu that covers the usual pastas, sandwiches, Italian-inspired appetizers and, of course, pizza. But there's a special list of pizzas the average diner should be aware of: the secret menu pizzas. These selections vary in their creativity, with everything from a Mexican-inspired pie hosting mozzarella, chorizo, red onion, a topping of crushed tortilla chips,salsa and black beans; to an Asian-inspired pizza featuring a Thai sauce base, mozzarella, pineapple, chicken, bacon, bleu cheese, and fresh basil.
But the pie that truly won our hearts was The Godfather. The appropriately named pie features a garlic oil base, mozzarella, salami, prosciutto, spinach, roasted red peppers, pepperoni, fresh mozzarella, and a swirl of balsamic vinaigrette over the whole thing. We did make one change upon ordering: instead of the garlic oil base, which we felt would be a little dry, we opted for a red sauce base – giving us a bit more of a "traditional" feel. … if such pies can be considered traditional.
The result was a salty, sweet, tangy, and flavorful pizza which was reminiscent of a classic Italian sub sandwich. Oh – and don't skimp on that swirl of balsamic. The added tang brings the assorted meats topping the pizza to a whole different level.
The Pizza Peel & Tap Room is located at 4422 Colwick Road in Cotswold. They also have a location in Plaza Midwood at 1600 Central Avenue.