Try This: Tortas at Bakersfield
The newest Mexican joint on East Blvd has lots to offer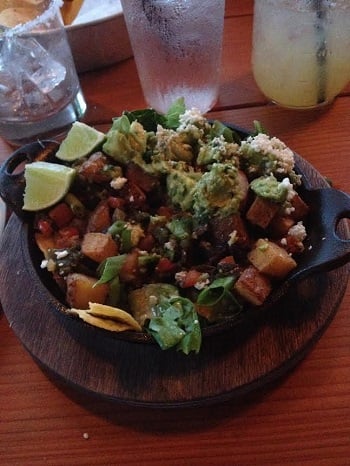 Bakersfield on East Blvd is the new Mexican joint in town, now that Cantina 1511 has packed up and moved to their Park Road Shopping Center home. The trendy eatery, which has three other locations nationwide, serves up smaller bar bites and lots (and lots and lots) of tequila and tequila-based cocktails.
Aside from enjoying the picnic feel of the place, make sure you try one of two items on the Bakersfield menu: the tortas.
Tortas are corn tortillas flash fried to be flat and crisp. They're then stacked with Mexican fixin's. At Bakersfield, you can opt for the chicken and chorizo torta, featuring black beans, chicken, chorizo, salsa verde, queso fresco, cilantro, and shredded romaine lettuce; or you can opt for the papas torta, which features black beans, potatoes, poblanos, queso fresco, guacamole, scallions, radish, and shredded romaine.
These both probably sound like a leaning (messy) tower of Mexican food. However, Bakersfield presents the dish in a small cast iron skillet, romaine on the bottom, torta number one on top, covered in a few ingredients, then topped with the second torta, which is more generously topped with the remaining ingredients.
It's a fun and delicious break from the typical mishmash that is taco salad. There's no oversized deep-fried bowl here, and it's a welcome change.