Turnaround City: Charlotte's Real Estate Rebound
Finally, the Charlotte real estate market is starting to move in the right direction. Still, this "Goldilocks" market—not too hot, not too cold—presents all sorts of challenges. Read how some locals are confronting those challenges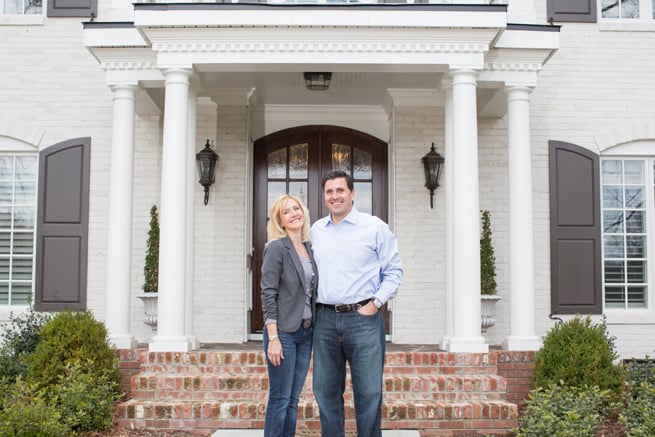 How Much Is Your Home Worth Now?
Our exclusive chart reveals historical data for all of Mecklenburg County plus parts of Cabarrus, Union, and York counties. How's your neighborhood doing?
See HERE for our Exclusive Chart.
Remodel Risk
The Challenge: Four years ago, Robert and Susan Aliota had their dream home in mind: more square footage, a downstairs master, in their sons' current school district, all on a large lot on the golf course at Carmel Country Club, where they're members. Two years ago, they began looking seriously. When a 1960s Mansard-style home that satisfied all of the Aliotas' desires went on the market in the Montibello neighborhood, the couple knew this could be the one. But while the home had great bones and was on a large 1.28-acre wooded, golf course lot, it needed major renovations. Their real estate agent, Dave DeSilva, urged them to give the house a second look. And with an asking price a third of the sales prices of homes on the same street, the Aliotas couldn't pass up the opportunity to make this their dream home.
The Options: Because the home was priced just right—the asking price was $700,000 to $800,000 less than the sales prices of homes on the same street—the Aliotas knew that they couldn't pass it up. After consulting with residential designer Jeanine Devaney and a designer with Shea Custom Homes, they realized they could add their personal touch to the home and likely still come under budget.
The Decision: The Aliotas opted to transform the two-story 4,400-square-foot home into a three-story 5,800-square-foot Georgian-style beauty. With the help of their designer, the couple added a third story and created an open floor plan ideal for the couple, who entertain often. "This is the home we plan to retire in," Susan says. "Besides allowing us the lifestyle we wanted, we made an investment." A sound investment indeed: in 2012 the home was appraised for 40 percent more than the Aliotas put into it. "I think it's a great move for them," says DeSilva, who is with Allen Tate. "They're happy there and they got to do what they wanted with the home."
Next: Go Big; Go Suburban
Go Big; Go Suburban
The Challenge: In 2005 when Brad Guess was a bachelor, his three-bedroom 1940s bungalow in pedestrian-friendly Plaza Midwood was the ideal spot for the salesman, who used one of the bedrooms as a home office. But when he married his wife, Corey, and they became a family of three with the addition of their son, now 3, their 2,400-square-foot bungalow began to feel increasingly small. "Then we started thinking about a second child and that's what really got us thinking about either expanding the home or moving elsewhere," Brad says.
The Options: The Guesses sold their Plaza Midwood home in May 2011 and rented in Cotswold while they looked for another home. But finding a charming, turnkey home that satisfied their need for additional square footage in the neighborhoods they liked—Elizabeth, SouthPark, Dilworth—proved to be difficult. "We looked inCharlotte for months before realizing we were not going to find what we wanted within our price range," says Corey. "I realized that we were going to have to make serious compromises in order to stay in the city." Adds Brad, "We started begrudgingly looking at the suburbs," places like Davidson and Lake Norman. It wasn't until the couple visited Baxter Village in Fort Mill in October 2011 that they realized everything they wanted—a larger, charming home with more bedrooms, a pedestrian-friendly community, all within their budget—was available in the suburbs after all. "It was new construction that had the feel of the 1940s bungalow [we'd left]," Brad says.
The Decision: After visiting the community several more times, in March 2012 the Guesses bought a heavily wooded, one-acre lot on which to build their four-bedroom home, complete with a designated home office for Brad. They spent $50,000 less than their original budget. "[Baxter] has a quaint town square, phenomenal schools, the YMCA, and it's a heck of a lot less expensive than Mecklenburg taxes and North Carolina state income taxes," Brad says. "Plus, you're only 25 minutes away from [uptown]." Adds Corey, "I am absolutely sure that it was the best decision for our family."
Next: First-Time Jitters
First-Time Jitters
The Challenge: For Evan Lukacs, it's been all about timing—and the 30-year low interest rates. As a mortgage banker/loan officer, Lukacs follows the market intensely. "Over the past two years I've seen [the housing market] at absolute bottom, and I've seen [home values] start to turn around," he says. "That impacted why I want to aggressively purchase." Now the bachelor, 27, who currently rents a $1,200-per-month apartment off Morehead Street and Freedom Drive, is ready to pull the trigger. But he's finding he's not alone: last fall Lukacs put in a bid significantly above asking price on a condo at Dilworth Walk only to have his offer rejected due to a bidding war among several other buyers. "Other homes we're looking at putting offers in are priced so aggressively that they're getting multiple offers in a one- to two-day period," Lukacs says.
The Options: Lukacs's lease runs out at the end of May. He is determined to take advantage of the low interest rates and purchase his first home, preferably an in-town, single-family house.
The Decision: After taking a brief hiatus from home shopping over the winter, Lukacs is back at it with his real estate agent, Ryan Willis. "These next three months are going to be aggressive in looking," Lukacs says. "I'm the type of person that, when I see it on paper and can actually see the home inside, I'll know in twenty minutes if this is the home I want to make [an] offer on." Now he just needs to find that home.
Next: The Simple Life
The Simple Life
The Challenge: When they purchased it in December 2005, Kevin and Tonya Breen loved their two-bedroom, one-bath circa-1915 Craftsman-style home in Elizabeth, even though it stretched their budget to the seams. But they knew that once they started a family, they would need more space. "It wasn't the smartest move to buy a two-bedroom home when we knew we wanted a family," says Tonya. Over eight years (and the addition of their two boys, now 3 and 4), the Breens renovated the home twice—adding an outdoor living space, third bedroom and additional bath, and a driveway—at a cost of more than $300,000. It wasn't until the family was shaken by Tonya's diagnosis of brain cancer two years ago, not to mention more than $100,000 in medical expenses, that the couple realized they wanted (and needed) to simplify their lifestyle and lower their mortgage payments.
The Options: "We suddenly had clarity on the important things in life and what our priorities are," says Tonya, who undergoes expensive quarterly MRIs to monitor her tumor. "That realization was that we needed to declutter and destress our home." That meant selling and moving to a larger home outside of town in south Charlotte, where homes are slightly less expensive and offer more space.
The Decision: The Breens plan to list their home this spring for almost $200,000 more than their purchase price but significantly less than what they put into it with renovations and improvements. Until then, the couple plans to look for homes in south Charlotte, closer to Kevin's job as a financial adviser. "We're not going to be under water when we sell it," Tonya says. "We're making some great changes and we feel like if it doesn't sell we're going to reassess our situation and be happy for what we have."
Next: Moving On Up
Moving On Up
The Challenge: With two young children, the Erwin family was quickly outgrowing their 2,000-square-foot Huntersville home. "The way the house is situated, we're constrained. We can't go outward or upward [and add square footage]," says Brad, a lending manager. "We love the neighborhood.
But renovating isn't really an option."
The Options: To start with, Brad and Ashley Erwin looked into purchasing existing homes in surrounding neighborhoods. "We could never find something exactly the way we wanted it," Brad says. "There were a few neighborhoods we loved but nothing would pop up [for sale]." The couple then began looking at new construction. "We could put what we wanted into the house and have more control over the look." The Erwins considered renting out their existing home until home values start to go up, closer to what the couple purchased the house for in 2007. "We didn't want to write a huge check to sell the house," Brad says. "We saw it as an asset, and for tax purposes it's a benefit, as well."
The Decision: "We'd driven through the neighborhood before," Brad says of Treetops, a neighborhood just outside Huntersville in Lincoln County. "It had these gorgeous custom-built homes. Then the custom building stopped [when the market went south]." Another builder ended up buying the undeveloped lots at a discount. The couple is not only building a 4,500-square-foot all-brick home—twice the size of their current house—but also an energy-efficient dwelling. "Everything is EnergyStar-approved, from the appliances to the spray-foam insulation. It's the little things like that that will save us money in the long run."
Next: Lottery Risk
Lottery Risk
The Challenge: In 2005, Jason and Heather Tselentis sold their home in Seattle within twenty-four hours of listing it. They were pressed to find a home in Charlotte, where they were moving to be closer to family. "We had no time to do research," Heather says. "Our Realtors, Irv Schwebel and Keith Thompson, urged us to look at Beverly Crest and areas near the Arboretum because the schools there were strong. But schools weren't a priority for us at the time. Without kids, the quality of schools didn't bother me." They bought a house in south Charlotte near Charlotte Christian School. But three years later, the Tselentises' oldest son (they have two, ages 5 and 6) turned 3, and they began looking to move into a better school district. "Our neighbors opted for the lottery system and their kids are enrolled at a magnet," Heather says. "But that's an hour drive both ways. I don't want my kindergartener on the bus for two hours a day and I'm not willing to risk the lottery or being on the waiting list for a magnet school."
The Options: While private school was an option, the Tselentises preferred to move and take a loss on their home. They took Thompson's advice and began looking in south Charlotte. The Ardrey Kell and Providence high school districts were tops on their list, and the Myers Park High School district was the only in-town option they would consider.
The Decision: Ultimately, the Tselentises settled on a home in Beverly Crest, which is in the Providence High School system, and just a short walk from the schools. "It came down to how badly we wanted a good education for our kids," Heather says. "You want the best teachers, the best resources. It didn't matter if we took a hit on our home. It was all about my kids and their education."
How Much Is Your Home Worth Now?
Our exclusive chart reveals historical data for all of Mecklenburg County plus parts of Cabarrus, Union, and York counties. How's your neighborhood doing?
See HERE for our Exclusive Chart.