"Tuscan" Author Ventures into Winemaking
Frances Mayes launches brand of hand-selected Italian wines at event in Charlotte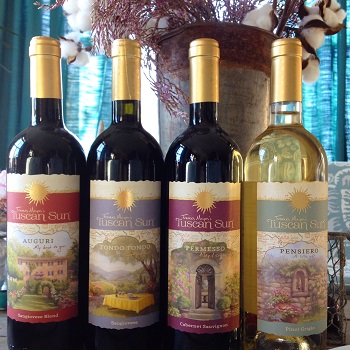 Frances Mayes, the bestselling author of "Under the Tuscan Sun," is bringing her line of Tuscan Sun Wines to Charlotte. Created in partnership with Curious Cork Imports and distributed in North Carolina by Fine Wine Trading Company, each Tuscan Sun Wine was hand-selected by Mayes herself to embody a different concept that touches on the Tuscan lifestyle.
The good news for those of us in Charlotte is that Mayes will meet fans and sign bottles on Saturday, November 22, 3-6 pm at the Harris Teeter Morrocroft at 6701 Morrison Blvd in Charlotte. The new line of Tuscan Sun Wines include:
Pensiero: Translating to "a little gift," the Pensiero is 100% Pinot Grigio. The only white wine in the line thus far, the Pensiero is crisp and has pear and apple notes. It paired beautifully with a filet of tilapia for a light meal.

Permesso: Italian for "may I come in," the 100% Cabernet Sauvignon is reminiscent of licorice and red fruit, with a lingering after taste (that never translates to bitter). It goes well with many autumnal dishes, such as roasts, red meat and heavy stews.

Tondo Tondo: The 100% Sangiovese is "just perfect," as the name implies. It comes across a bit herby at first, but has the taste of ripe berries, too. This wine goes with just about anything — we tried it with a sausage, kale, and white bean stew!

Auguri: The "my best to you" combination of 80% Sangiovese, 10% Cabernet Sauvignon, 10% Merlot is warm and inviting. It goes well with cold-weather pasta dishes (perfect for the recent weather we've had here) or light cheese courses. It's slightly acidic, bold, and spicy.
When asked about her new line of wine, Mayes said: "Everyone always asks, 'What's your favorite of your wines?' The only answer I have is that the one I'm holding in my glass at the moment is my favorite. … The wine must reflect the joyous pleasures I've experienced first hand by living in the Italian countryside. We wanted convivial, great-with-food, honest wines, full of verve and nuance.
We designed names and label designs that link to the celebratory concepts I've loved writing about in my books: welcoming hospitality in Permesso, friendship in Auguri, generosity in Pensiero, and the local feeling that all's just right in Tondo Tondo, a dialect expression. Soon we'll have the deep poetry of Tuscan nights in our Touch the Stars, Toccare le Stelle, a spicy prosecco."
Since settling in Italy more than 20 years ago, Mayes penned titles including "Under the Tuscan Sun;" "Bella Tuscany;" "Every Day in Tuscany;" "Bringing Tuscany Home;" "The Tuscan Sun Cookbook;" "A Year in the World;" "Shrines: Images of Italian Worship;" "Italy: Where to Go When;" "Swan," her first novel; and "Under Magnolia: A Southern Memoir" released April 1, 2014 which shifts the focus from Italian countryside to Southern.
Mayes, who is originally from Georgia and spends a bit of time in Italy, lives in Hillsborough, NC, with her husband and has history in the Charlotte area. Mayes' father was born in Mayesworth, near Charlotte, where her great-grandfather, John Henry Mayes, was a major industrialist. His house, now on the National Historic Register, still stands in Charlotte at 435 East Morehead Street and is occupied by the law office of Wyatt & Blake.
Mayes is thrilled to introduce North Carolina to her line of wines, which have already become favorites in other states as well as Italy. Given her familial ties to Charlotte, and the shift in her latest book from a focus on Italy to the South, the time and place couldn't be better.
Head out to Harris Teeter on Morrison Blvd. this Saturday to pick up your own little taste of Tuscany and meet Mayes!