Twilight, Floyd Mayweather, Scorpios, Game Viewing Parties, and More this Weekend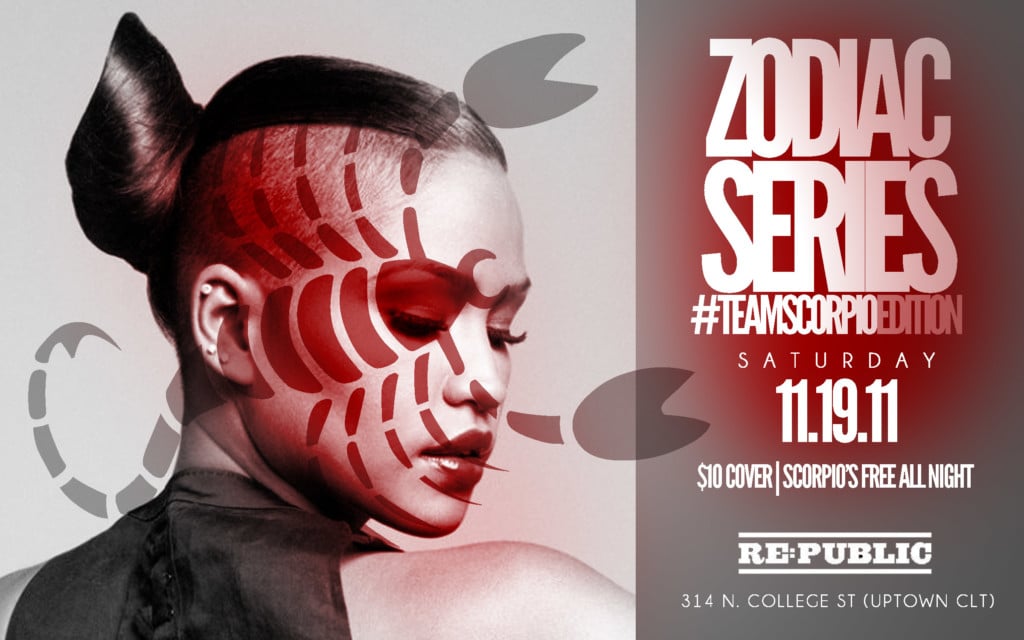 Enjoy yourself this weekend at any number of these parties and social events. Tell 'em Dusk Till Dawn sent ya.
Friday, November 18
LZYVIP Checkers Fight Night
Show your support for the Charlotte Checkers all night. There's a pre-party 5-7 p.m. at Prohibition. Then watch the Checkers take on the Rockford Ice Hogs at 7 p.m. at Time Warner Cable Arena. And end the night at the post-party 9-11 p.m. at Prohibition. Price includes lower level game ticket, two beers or Red Bull and vodkas before the game, and one beer or Red Bull and vodka after the game. Presented by Lazy Day. $10 for LZYVIP members; $15 for general public. Prohibition, 200 N. Tryon St., prohibitionclt.com, lzyvipfightnight2011.eventbrite.com.
18th Annual Beaujolais Festival
The Alliance Francaise de Charlotte and the Charlotte International Cabinet invite you to celebrate "Les première vendanges," or first grape harvest of the year. Enjoy great wines, French food, music, a raffle, and silent auction. Charlotte is one of 16 cities in the United States recognized as an official Beaujolais city by the Union Interprofessionelle des Vins du Beaujolais, the association governing this wine producing region of France. 6-9 p.m. $20-$30. Levine Museum of the New South, 200 E. Seventh St., charlotteinternational.org.
Ladies Night
Blue Goose Entertainment resume their monthly third Friday party series in celebration of women. Ladies will enjoy complimentary Pink Sparkling Moscato before 11:30 p.m. Music by DJ Shaun Nyce. 9 p.m. Everyone free before 11:30 p.m.; for VIP tables, james@loft1523.com. Loft 1523, 1523 Elizabeth Ave., loft1523.com, bluegoosenc.com.
Twilight Party
Come dressed as your favorite character in this popular book/movie series, in honor of the release of The Twilight Saga: Breaking Dawn, Part 1. There'll be movie-inspired drink specials such as the Twilight Tini, Dark & Stormy, Edwards Kiss, Breaking Dawn, and more. Music by DJ Girl 6 from Las Vegas. 9 p.m. Cost varies; for VIP reservations, vip@mezcharlotte.com. Mez, inside EpiCentre, 210 E. Trade St., mezcharlotte.com.
Floyd Mayweather Celebrity Extravaganza
Party with one of the best fighters in the world and the Money Team. Exclusive VIP section with food and champagne is available. 9 p.m. Cost varies; for VIP booths, 704-605-4448. 5th Element, 500 W. Fifth St., 5thelementnc.com.
Saturday, November 19
Cornhole Tournament and Bar Olympics
Bar Athletes presents an afternoon of bar fun and games. Enter the cornhole tournament for a chance to win $200. Or compete in the Bar Olympics and win VBGB gift cards. Also enjoy food and drink specials. 3 p.m. Free. VBGB Beer Hall & Garden, 920 Hamilton St., vbgbuptown.com, barathletes.com.
UFC 139 Viewing Party
Watch Dan "Hendo" Henderson take on Mauricio "Shogun" Rua, two legends in the sport of MMA, as they battle for title contention. This Pay-Per-View event also features fights on the undercard. 9 p.m. Cost varies. The Men's Club of Charlotte, 444 Tyvola Rd., mensclub.com/charlotte-mens-club.
Hello James, a Tech Disco Odyssey
Get your dance on to the sounds of renowned DJ James Curd, along with resident DJ Nat Eichler. 9 p.m. $5 before 11 p.m.; $10 after. Dharma Lounge, 1440 S. Tryon St., dharmacharlotte.com.
Zodiac Series: Team Scorpio Edition
Celebrate the eighth zodiac sign, men and women known for being deep and intense. Music by DJ Complete and DJ 360. 10 p.m. Scorpios free all night; everyone else $10; for VIP tables, tami@republicofcharlotte.com. Re:Public, 314 N. College St., republicofcharlotte.com.
Sunday, November 20
Viddlz
Come out for football, food, and fun as you watch the Carolina Panthers take on the Detroit Lions. Enjoy lunch and unlimited non-alcoholic beverages, included in the cost of admission (bar will be open as well). There will also be food contests for best cake and best cobbler, and you'll be able to sample the desserts. Presented by Sideline Pass and Thuuz. 12-4 p.m. $10. Dilworth Neighborhood Grille, 911 E. Morehead St., neighborhoodgrille.com, sidelinepass.com/viddlz.
NFL Sunday Ticket
Watch any and all of the NFL games on the multiple big screens. And enjoy great drink specials, including $2.50 Yeungling bottles, $3 Coors Light and Miller Lite stadium cup drafts, $3.25 22-ounce Bud and Bud Light drafts, and $5 Absolut "you call its." 11 a.m.-midnight. Free. Wild Wing Café, inside EpiCentre, 210 E. Trade St., wildwingcafe.com.
La Finalé
Join Africana Connections for their final party of the year and come dressed to impress. Experience afro-centric culture. Music by DJ 9ja. 9:30 p.m. $10 and up; VIP $20 and up. Lux, 200 E. Bland St., luxcharlotte.com, africanaconnections.com.
Be sure to bookmark www.charlottemagazine.com/Blogs/Dusk-Till-Dawn to stay plugged into Charlotte nightlife.