Two Big Events This Weekend
A garden tour with plein air painters and a home-and-garden show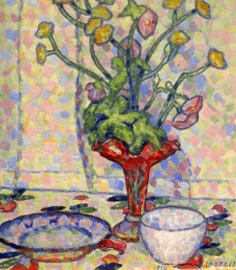 With the promise of pretty weather and interesting events, the weekend ahead looks delightful.
Art in the Garden
The Charlotte Garden Club presents its annual Art in the Garden Tour on Saturday, 10 a.m.-4 p.m., and Sunday, 1 p.m.-4 p.m. Nine gardens are on the tour, six private and three public. (Click here for the list.) Eighteen artists, stationed throughout the various gardens, will paint "en plein air," drawing inspiration from their surroundings. (Click here to learn more about them.) Nearly all of the artists reside in North Carolina, but one is visiting from Europe specifically for the garden tour. Art in the Garden will conclude on Sunday evening with a party and plein air painting display at Mint Museum Randolph. The final event is included in the tour ticket price. Advance tickets are $15 for Mint Museum and Garden Club members and $20 for nonmembers. Day-of tickets are $20 for members and $25 for nonmembers. Click here to purchase tickets.
Home & Garden Show
The Better Living Home & Garden Show takes place at the Cabarrus Arena & Events Center in Concord on Friday, Saturday, and Sunday. The event brings together local and regional businesses to create a beneficial experience for consumers. From cooking tools and candles to gutter experts and landscape professionals, the show is sure to provide ideas and contacts. Friday, noon-8 p.m.; Saturday, 10 a.m.-8 p.m.; and Sunday, 11 a.m.-6 p.m. Tickets are $5; children 14 and younger are admitted free.