Two Brands' Big Plans for Charlotte Coffee Scene
Not Just Coffee, Undercurrent Coffee team up to open four new cafés and a roastery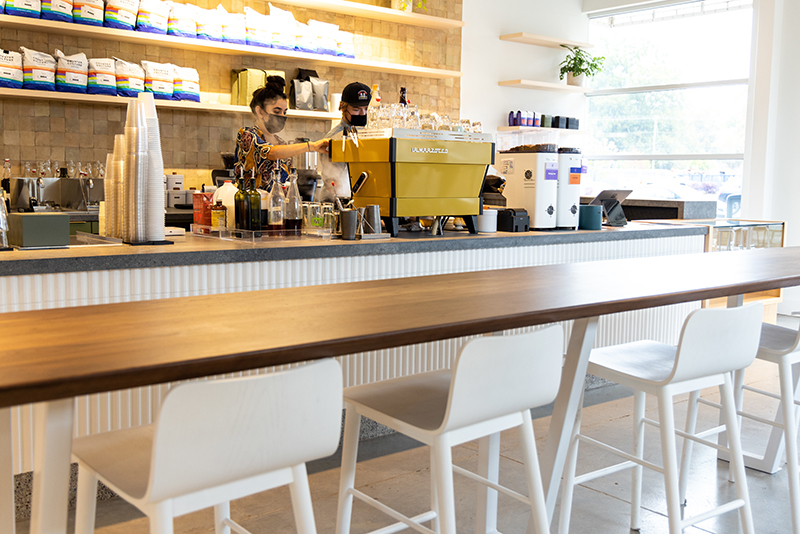 A good coffee shop is more than a quick pit stop in the morning. It's a place to unwind with a good book, catch up with an old friend, or settle in with your laptop when you need a respite from the office. Every now and then, you happen upon a place where the couches are comfortable, the outlets are plentiful, and the food is as good as the lattes.
Night Swim Coffee opened its first location, in Oakhurst, in late October. At press time, a second café was scheduled to open in a 3,000-square-foot space at Legacy Union in uptown. Night Swim is a collaboration between the owners of two of Charlotte's most popular coffee shops: Miracle and James Yoder, who founded Not Just Coffee in 2011, and Todd and Erin Huber, who launched Undercurrent Coffee in 2018.
The Hubers and Yoders, who chose "Night Swim" to evoke a sense of adventure and fun, set out to create a great coffee shop experience. But their vision goes beyond that. They already plan a second uptown location at One Wells Fargo, as well as a 5,000-square-foot roastery with a café in Lower South End that will launch later this year. Could this Charlotte-based roastery evolve into a regional coffee brand, like Durham's Counter Culture Coffee?
Night Swim's Oakhurst location is light and inviting, with white walls, high ceilings, green banquette seating, and light maple tables with, thankfully, access to outlets. But the real test of a coffee shop is its drip served black. It needs to be strong, dark, and aromatic in a cup with a lid that doesn't leak. This one aces it. (Until their roastery opens, Night Swim's cafés will serve coffee from NJC and Undercurrent's long-standing partners Counter Culture and Onyx Coffee Lab.)
The drink menu includes Batch Brew Coffee ($3 for 12 ounces, $3.50 for 16 ounces), Japanese Iced Coffee ($3.75), and specialty drinks like Cortados ($3.75) and Matcha Lattes ($5). Substitute oat milk or almond milk in any latte for an additional 75 cents, or add a flavor like caramel, mocha or maple cardamom for $1 more. They also have Golden Milk ($5), Masala Chai ($5), a selection of loose-leaf teas, and hot chocolate.
And because nobody can survive on coffee alone, the food menu includes breakfast and lunch fare and a variety of pastries. The Avocado Toast ($8.75) is a bit pricey even for the millennial favorite, but this one is topped with harissa, toasted almonds, and lime pickled onions; add an egg for $2 to make it a full meal and justify the cost. The Parfait ($8.25) is a cup of yogurt layered with jam, maple pecan granola, and fruit, and it's more filling than the short glass would indicate. For a grab-and-go option, try the Breakfast Sandwich ($6.25) with eggs, goat cheese, tomato, and sundried-tomato aioli.
For the lunch crowd, they serve Focaccia Sandwiches ($9.25) on house-made herb bread, and a rotation of Frittatas ($7.50) with seasonal ingredients. If you just came for a snack or need something sweet to pair with your cold brew, grab a Salted Chocolate Chip Cookie ($3.25), a Blueberry Muffin ($3.75), or a slice of Zucchini Nut Bread ($3.75) from the pastry case and stay a little longer.
There's no question you'll pay more for less coffee than at Starbucks, and the pastries aren't the catcher's mitts you find at Dunkin' Donuts. But that's not the point when you support independent coffee shops—or, in this case, a local brand with its own roastery. You're helping two young couples build something unique to Charlotte.
---
Night Swim Coffee (Oakhurst)
1620 Oakhurst Commons Drive, Ste. 306
Hours:
7 a.m.-6 p.m., Monday-Friday
8 a.m.-6 p.m., Saturday
8. a.m.-5 p.m., Sunday