Two-Wheeled Pleasures
It's fall- my favorite season to hop on my bike and ride. The new section of the Little Sugar Creek Greenway awaits.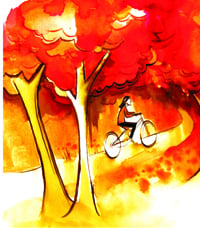 The humidity of late August hangs in the morning air as I get on my bike and head for the greenway along Little Sugar Creek. It's been months since I've biked this route because of an injury last fall—an inflammation in my right thigh, caused by too much biking. My cycling trailed off as I slogged through the winter in a funk, trying exercise, ice packs, drugs, heat therapy, and even acupuncture. Nothing helped. I thought my biking days were over until I found a good physical therapist in the spring.
I'm glad to be on a bike again. Because I grew up in the country, I took to distance riding at an early age. It was the only way to go see friends or to buy the items lacking at home, like soft drinks and candy. I've been fooling around on a bike for years now, and I still find joy in that first moment of pushing the pedal down and settling into the seat. There's always something new to explore out here on the road. I don't belong to a team or ride competitively, and my bike cost about as much as a good pair of shoes—if it gets stolen, it can be replaced easily.
I pull up to the path at Little Sugar Creek, where it starts behind Park Road Shopping Center, and begin an easy ride of trails and sidewalks that will take me to Freedom Park. One of my friends still lives in this floodplain. In the late 1990s the creek was one of the most polluted in the state, so the county began buying up homes and tearing them down to bring back the wetlands. Seventy structures were destroyed. My friend's house—one lot removed from the boundary of the wetlands—was spared. She loves the outcome. Instead of a dredged channel of murky water floating through a swamp of weeds, she now enjoys a mile-long paved path by a stream that curves and bends. The county restored the meandering shape to slow the water's flow and reverse erosion. Fish have returned. Her dog, Jack, loves to romp in the lush plantings along the path.
But they're not out walking this morning. It's too early and the neighborhood of small houses in the floodplain is quiet. The trail ambles along the creek and then deposits me on a street of scruffy duplexes. At Princeton Avenue I cross the road and enter Freedom Park. The greenway path travels between woods and creek, edging the forest behind the Charlotte Nature Museum. I pass a wooden bridge and empty soccer fields. By the time I get to East Boulevard the wetlands are gone and the path looks truly urban, like those I've traveled in Washington, D.C. Sailing down a small hill and scooting under a bridge, I emerge on wide pavement. The stream beside me is clean, splashing over rocky outcroppings.
On the dark waters a family of ducks is nearly invisible. I've heard there are herons here, but I haven't seen one. Overhead to the left, a maze of medical buildings whizzes by; soon I'll pass Carolinas Medical Center. Last year in the gray light before sunrise, I would see people on the benches or standing near the water, weary from a long night. I remember one woman who sat exhausted, her hair stringy and limp, smoking a cigarette under a tobacco-free sign. The greenway must give relief to those who've had too much of artificial lights and beeping monitors, the smell of antiseptic and the silence of sickness.
As the trail leaves the hospital it comes to its final stretch, what I shall fondly refer to as the Disney phase. This section along Kings Drive, which opened in July, has a fine stone bridge, a clock tower, sculptures that look like giant shark's teeth, and a big fountain surrounded by a swirling pebble mosaic. The bathroom building looks like a quaint cottage. The faux stone and white urns seem out of place, and too perfect in design, but it's a big improvement over the eyesore that was here.
Our local government branches are making it easier to bike in Charlotte. When I moved here fourteen years ago there were no bike lanes at all on the streets; today there are fifty miles of lanes and in twenty years we should have 600. The city benefits from an official bike plan. There's also been a big improvement in greenways, providing miles more pavement that make it easy to get outdoors.
I reach the end of the greenway, which means it's time to leave this magic kingdom and get on the streets. When fall comes I'll have juggled enough rides and physical therapy to bike farther. I'll come back to bike my old route downtown. For a decade I've gotten up early on the weekend to see what's going on in the center city. I've arrived at Tryon Street to see rows of classic Porsches lining the street, the owners setting up lawn chairs while managing a cup of coffee; cruised through Gateway Plaza to discover a stage set up for a chefs event; and found all sorts of parks and lawns and gardens tucked into hidden spots around buildings.
One Saturday last fall I was here on Kings Drive, headed for downtown. A security guard walked Metropolitan Avenue, her white shirt freshly ironed. I nodded to her, then turned up Stonewall to check out the construction on the NASCAR Hall of Fame. I didn't understand the long slits in the walls—in the coming months I would learn they were going to simulate racetrack lights. I biked past the construction and then to College Street for a park called The Green. Passing the bronze tower of books, I made my way up the hill, detouring into garden rooms of artistic furniture. The chairs and chaise lounge seemed a spoof of classical Rome; a mosaic shawl was draped over the chaise. Then I crossed Tryon to see the glittering mythological beast across the street.
In front of the Bechtler Museum, Firebird sunned itself in the morning light. The sculpture stood like an amulet in front of the museum, a charm of good luck. I went up on the sidewalk to circle the bird's trunklike legs, studying the tight arrangement of mirrors. With no traffic lights to urge me on, I coasted and turned, noticing similarities between it and other large works by Niki de Saint Phalle. I once sat inside a skull she built, on display in a botanical garden.
It had a similar mirrored surface inside. The French—they seem capable of bringing style to anything, even death.
I left the Firebird and made my way down the street, wheeling around fountains and plazas, looking for things that had changed since my last ride. The city was still asleep, and I felt safe as I passed security guards walking into buildings or looking up from desks. The Belk Theater marquee flashed news about its upcoming shows; the frescoes in the Bank of America lobby glowed. At Trade Street I headed downhill to Gateway Village. After five blocks I cruised under the high-ceilinged plaza, looking to see what was new at Johnson & Wales. Biking back up Fifth, I turned on Poplar Street into the park at Fourth Ward to enter the Victorian neighborhood. The stone fountains were not running; I remember my disappointment. I looked through the windows of Alexander Michael's as I passed the painted houses. Chairs were upside down on tables inside the neighborhood restaurant. I headed for home.
This year I'll revisit that ride as I again fall in love with the fall season. For a few special weeks, while the leaves are changing colors and the sky is turning Carolina blue, I'll discover new things about this city that I love. Soon winter will arrive and I will close the windows and turn on the heat. It will be too dark and cold to go out early on a bike. But in October the earth beckons. Come outdoors. Come play.
A lot can happen when you are messing about on a bike. The Wright brothers, who owned a bicycle repair shop, figured out how to fly.
Me, I just want to sail through autumn.