Unknown Brewing bringing tastes from both Carolinas for latest can release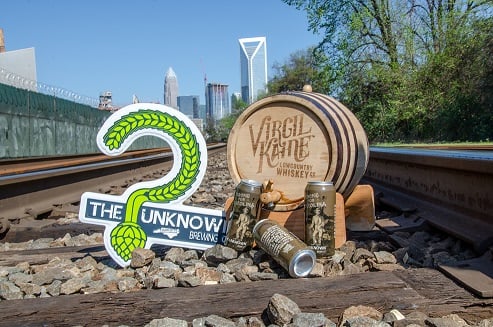 An up-and-coming distillery, "down-home" Southern food ingredients and cross-Carolina collaboration.
It's all inspiration for Unknown Brewing's newest can, Bound for Carolina, which will be available in the taproom beginning Friday.
Bound for Carolina is an imperial brown ale aged in ginger bourbon barrels from Virgil Kaine Distillery out of Charleston. For this 8.7 percent ABV beer, Unknown used both six-row barley and the highly-rated Maris Otter barley. Here's where the Southern aspect comes in: Unknown added in hominy grits and sorghum syrup to the brew before aging it in the bourbon barrels.
Virgil Kaine's distillery opened about four years ago with a focus on a unique product: ginger-infused bourbon. That put the Charleston distillery on the map, and it has since expanded distribution into North Carolina. As Unknown recently grew its footprint into South Carolina, it seemed like a perfect match for these two companies to get together and collaborate.
"We figured this was a great crossroads for us," said Unknown owner and head brewer Brad Shell in a press release. "It also doesn't hurt that we make great beer and they make a damn fine bourbon."
You'll be able to speak with Shell and the owners of Virgil Kaine on Friday at the release party. The taproom opens at 4 p.m., and during that time Bound for Carolina will be on draft and also available in 4-packs (16-ounce cans) for purchase. Each 4-pack will cost $10.99.
There is also a launch party in Charleston on April 14 at The Craftsman, and expect to see Bound for Carolina cans hit distribution at local bottle shops over the next few weeks.