Unmistakably Carolina: Game Day Recipes for the Original Bandwagon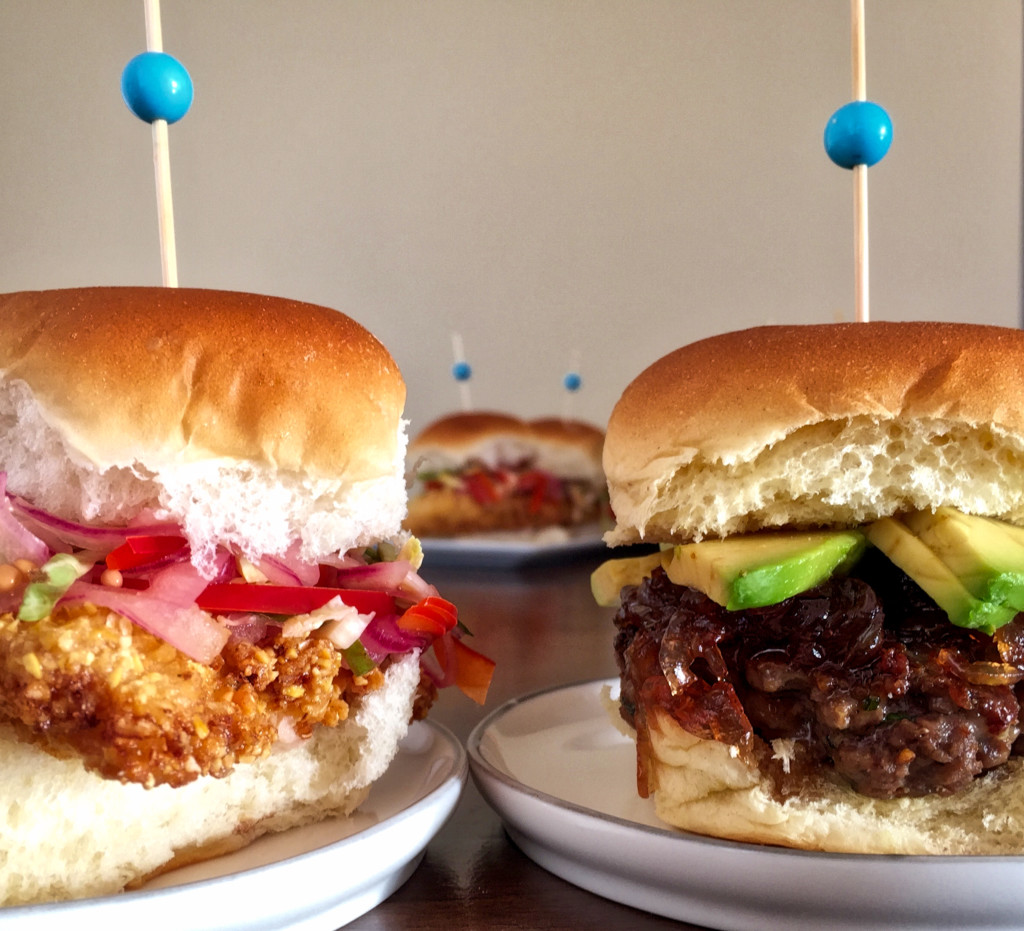 As soon as the Panthers punched their tickets to Santa Clara for the Super Bowl, we asked two of their biggest fans—who also happen to be chefs—to share a few game day recipes with us. Unlike those all those other recipes out there, these are unmistakably Carolina. With ingredients like NC catfish, Cheerwine, chow chow, and Duke's mayo, they not only satisfy a hungry crowd, they make it abundantly clear that you're a part of the Panther Nation (or that you just like good grub).
All three of these recipes have steps that can be done the day before, leaving little work for game day and more time with guests.
Chef Blake Hartwick of Bonterra
Blake Hartwick has lived in Charlotte for 23 years and has rooted for the Cardiac Cats since day one. He started his career here at Bistro 100 in Uptown, for those who've lived here long enough to remember one of Charlotte's first upscale dining spots. Fast-forward to the present, and you'll find Hartwick hosting the Celebrity Chef Tour for the prestigious James Beard Foundation this spring.
You'll also find him representing the Panthers at the Taste of the NFL this weekend. He plans to serve his special chicken wings for that event, but gave us a catfish slider recipe in honor of Carolina's #1 pescetarian: Cam Newton.
Chef Chris Coleman of The Asbury
Also a fan since the Panthers' inaugural game in 1995 is Chef Chris Coleman of the Asbury, a self-declared member of the "original bandwagon." Coleman, who grew up in Charlotte, remembers where he was when the Cats surprised everyone by finishing 12–4 in their second year, meeting Dallas in their first playoff game. His church threw a big party for the occasion, rolling a big screen television into the gym. Everyone came, says Coleman, "to watch us shut down Deion Sanders and the Cowgirls."
Coleman thinks about the sense of unity that team created, comparing that moment to now, when another Panther team surprised everyone—except maybe themselves—and won a lot of hearts in the process. Maybe enough of us have lived here long enough to finally call Charlotte home. Maybe it's just the way they play ball, with a strange combination of grit and joy. Whatever it is, Coleman has enjoyed watching the fan base grow in size and loyalty over time. "Twenty years later, there really is this sense of community around the team," he says.
SOUTHERN CATFISH SLIDERS WITH CHOW CHOW AND ALABAMA WHITE BBQ SAUCE
Recipe courtesy of Chef Blake Hartwick
Put aside your preconceived notions about catfish, if you have any. The catfish called for comes from Carolina Classics of Ayden, NC, a premium fish without that muddy flavor. You can purchase it from Lucky Fish at the Atherton and Charlotte Regional Farmers Market or, if you're feeding a crowd, order it from Inland Seafood.
For the chow chow:
6 whole Brussels sprouts
1 red onion
1 red bell pepper
1/2 cup apple cider vinegar
1/2 cup water
1 teaspoon salt
1 teaspoon mustard seed
Pinch red pepper flakes
For the Alabama white sauce:
1/2 cup Duke's mayo
2 tablespoons apple cider vinegar
2 tablespoons corn syrup or agave
1 teaspoon red pepper flakes
1 teaspoon granulated garlic
1 teaspoon sugar
For the catfish:
2 fillets Ayden, NC catfish
2 cups buttermilk
2 cups cornmeal
1 cup all-purpose flour
1 tsp salt
6 King Hawaiian rolls
The Night Before
Prepare your Alabama white sauce and chow chow. For the Alabama white sauce, combine all ingredients into a mixing bowl and chill over night.
For the chow chow, slice the Brussels sprouts in half then thinly slice. Julienne the red onion and red bell pepper. Combine these in a mixing bowl and set aside. Place the apple cider vinegar, water, salt, mustard seed, and red pepper flakes in a small sauce pan. Bring to a boil, then remove from heat. Pour mixture over the Brussels sprouts mixture and cover with plastic for 30 minutes, then refrigerate over night.
On Game Day
it is time to prepare your catfish! Cut the 2 catfish filets into thirds. Place the catfish in the buttermilk and allow to marinate for two hours. Mix the cornmeal, all-purpose flour, and salt into a dish where you are able to lightly coat the fish prior to placing in the fryer. In your home fryer or pan, heat oil to 350°. Place fish in the oil once hot for 1 1/2 – 2 minutes, or until golden brown. Remove from the fryer and place on a towel to soak up any excess oil. Slice your rolls in half. Place the catfish on the roll then top with the Brussels sprouts chow chow and Alabama white sauce. Kick back and enjoy the Super Bowl!
KEEP POUNDING SLIDERS
Recipe courtesy of Chef Chris Coleman
These sliders are different from every other "black and blue" burger you're likely to find in the Queen City, says Coleman. A sweet-and-sour red onion jam and sliced avocado sets it apart, as do the high-quality blue cheese pockets inside the burger itself. Don't skimp on the blue cheese; quality counts here.
1 pound ground beef, preferably chuck-short rib mix
6 ounces high-quality sharp, tangy blue cheese (e.g., Roth's Buttermilk Blue, Shakerag), crumbled into large chunks
1 tablespoon black pepper, coarsely ground
1 teaspoon Worcestershire sauce
1/2 teaspoon brown mustard
1 tablespoon minced fresh herbs (chive, thyme, rosemary, and/or parsley)
Splash lemon juice
Vegetable oil
12 potato dinner rolls
1 avocado, thinly sliced
Red onion jam (recipe follows)
In a medium mixing bowl, combine beef, blue cheese crumbles, coarse ground black pepper, Worcestershire, brown mustard, minced herbs, and lemon juice. Mix until just combined, taking care not to crumble blue cheese too small. Divide into 12 slider patties (approx. 1.75-2 oz each).
Heat large cast iron pan over high heat until slightly smoking. Add a splash of oil, being careful of hot pan. Sear each patty until browned and crispy crust has formed. Flip over and continue to cook until desired doneness. Remove from heat and allow to rest.
Slice each potato roll in half. Place a patty on the bottom half, top it with avocado slices, the red onion jam, and the top half of the roll.
Red Onion Jam
1 tablespoon vegetable oil
1 red onion, halved, sliced thinly sliced across
Pinch cayenne
1/2 cup brown sugar
1/2 cup pineapple vinegar*
Heat a medium sized pot over medium and add oil. Add onions, cayenne, and a pinch of salt. Cover pot, and sweat until completely softened. Add brown sugar and cook until starting to caramelize. Quickly deglaze the pot with the pineapple vinegar, reduce heat to low, and simmer until the mixture has athick jam-like consistency. Allow to cool then store, covered, until use. Jam will keep up to a week.
*Pineapple vinegar can be found at many Asian grocery markets. You can substitute apple cider vinegar.
CHEERWINE BBQ CHICKEN WINGS
Recipe courtesy of Chef Chris Coleman
Finished on the grill and glazed with a Cheerwine BBQ, these confit wings get a crisp skin with tender meat that falls off the bones. Allow plenty of time for the wings to cure and cook.
1–2 lbs chicken wings
Confit cure mix (recipe follows)
Oil, lard, or duck fat
Cheerwine BBQ sauce (recipe follows)
Thoroughly rinse wings, and toss with confit mix in a mixing bowl. Spread on a rack over a sheet tray and placed uncovered in fridge. Allow to sit at least 8 hours, or up to 16 hours. Rinse mixture from wings, then place in an oven safe pot, making sure wings have enough room to fit in one layer. If you feel like a pro, grab some aromatics (quartered onions, bay leaves, peppercorns, fresh thyme sprigs) and tuck these around the chicken.
Cover the wings with oil, melted lard, or duck fat. Place in a large pan and cover tightly with foil. Cook in a 250° oven for 45 minutes, until meat is cooked through and super tender. Take care not to overcook, or the wings will get mushy. (Check after 30 minutes. If needed, add more time in 15 minute increments.)
While the chicken is cooking, make the Cheerwine BBQ sauce. Once the wings are cooked, pour off the fat, reserving if you want to store the wings at all. Allow wings to drip dry in a colander; oil on wings will cause flare ups on the grill. Prepare a grill (charcoal preferably) and heat to medium. Grill wings, turning and basting with Cheerwine BBQ sauce every minute or so, until a thick glaze has built up and the skin crisps up.
Confit Cure Mix
Coleman didn't give measurements for this, calling it a basic template. Make as much or as little as you want; for 1 pound of wings, you really only need a few tablespoons of the entire mixture.
Equal parts kosher salt and brown sugar
Back peppercorns, crushed
Orange zest
Rosemary, chopped
Garlic, chopped
Cheerwine BBQ Sauce
This recipe makes more sauce than is needed, but it keeps for a week and is equally delicious on chicken and pork ribs. This is a sweeter barbecue sauce, notes Coleman.
1 shallot, minced
2 tablespoons brown sugar
1/4 cup apple cider vinegar
1/4 cup bread and butter pickle brine
1 tablespoon ketchup
1 tablespoon brown mustard
1/2 teaspoon hot sauce
Pinch cayenne
Pinch cinnamon
Pinch smoked paprika
1 can Cheerwine soda
Sauté the shallot over medium heat with a little oil until translucent. Add brown sugar and cook until caramelized. Deglaze the pan with the vinegar and pickle brine to create a gastrique. Allow to cook until thickened slightly.
Add ketchup and mustard and cook until it starts to get a little toasty. Add remaining ingredients, bring to a boil, and reduce to a low simmer until thickened to barbecue sauce consistency. Adjust sweetness, acidity, spice level to your preference.