Unusual Grillers
It isn't all burgers and dogs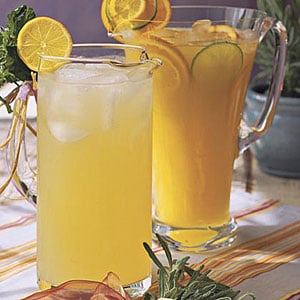 After helping a friend with her own grilling search, I came to a conclusion: nothing is off limits when it comes to grilling.
Of course we have amazing recipes for burgers or gourmet hot dogs, but have you ever thought about grilled salad? How about grilled guacamole? Grilled lasagna? I thought not.
Although one of my personal favorites for summer is this charred BLT salad which was featured in Cooking Light a few years ago, I wanted to impart to you the wisdom of Southern Living and share this recipe for grilled lemonade. Here's to hoping you never look at your grill quite the same way.
Grilled Lemonade
Step 1
Cut about 16 lemons in half. Dip cut sides in sugar, and place over hot coals. Make an herb simple syrup by pouring equal parts water, sugar, and honey into a disposable aluminum foil pan. Add a few fresh rosemary sprigs, basil, or mint, and place pan on grill.
Step 2
Grill about 10 minutes or until you see a golden caramelized color on the lemons. Meanwhile, your simple syrup should be heating up.
Step 3
Let the grilled lemons cool slightly. Place a wire-mesh strainer in a pitcher, and squeeze the juice from the lemons. (The heat softens the lemons for easy squeezing) Add water and herb simple syrup to taste. For the adventurous, you can add a splash of bourbon. Serve over ice.