Upcoming August Events
Art exhibitions and garden festivities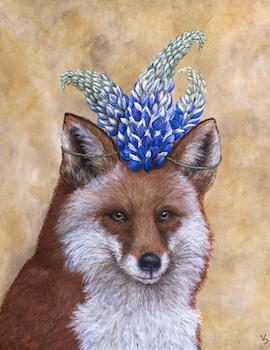 Make the most of this last full month of summer with a slew of home-and-garden events around town.
Many local galleries open new exhibitions around the first of the month, especially those in South End since they can coordinate with the First Friday Gallery Crawl. Lark & Key Gallery and Boutique opens a floral-themed exhibition next Friday, August 7. "The Language of Flowers" explores flower symbolism throughout art and culture. Four gallery artists—Vicki Sawyer, Mary Alayne Thomas, Judy Klich, and gallery co-owner Duy Huynh—created works with flowers as the focus. The exhibition runs August 7 through September 26. August's featured potter is Jennifer Mecca, and then Julie Wiggins' pottery will be on display for September. Both potters produce pieces tied to flowers and nature. The exhibition's opening will be Friday, August 7, from 6 p.m. to 9 p.m.
Ciel Gallery, also in South End, partners with the Carolina Raptor Center for its August show. "Entwined: Endangered Birds And Matters of The Mind, Body And Spirit" explores two different themes: endangered birds and humans' impact on the environment, and matters of the mind, body, and soul. The exhibition includes the work of two artists, Sydney Sogol and Tina Alberni. The exhibition also opens Friday, August 7, from 6 p.m. to 9 p.m. and runs until August 29. Representatives from Carolina Raptor Center will be present for opening night.
Send the kids on an adventure August 14 at Historic Rosedale Plantation. Fairy Camp runs from 10 a.m. to 1 p.m. Children ages 6 to 11 can explore the historic grounds while hunting for hidden fairies. They will also learn the folklore behind these mystical characters, create crafts, and enjoy snacks. Pre-registration required. Those who register before August 4 receive a discount.
Wing Haven Gardens will host a fun-filled, casual evening on Friday, August 28, at 6 p.m. Food Truck and Music in the Garden brings a local food truck to the garden grounds, a cash bar with beer and wine, and music to celebrate the unofficial end of summer. Tickets available in advance and at the door.