Upcoming Eating: Pasta Dinner at Aria and Spirited Tasting Event at Mez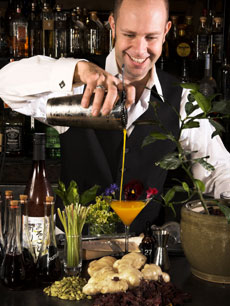 One week from today (Tuesday, Sept. 21), Aria is holding a pasta dinner featuring Summerland wines. The dinner begins at 6:30 p.m. and is $45 per person (including tax and tip). Want to make your mouth water? Check out the courses:
Summerland Sauvignon Blanc
2008 Santa Barbara
Linguine With Prince Edward Island Mussels & Arrabbiata Sauce
Summerland Wolff Vineyard Pinot Noir
2007 Edna Valley
Fettucine With Mushrooms, Pancetta, Basil & Goat Cheese
Summerland Fiddelstix Vineyard Pinot Noir
2007 Santa Rita Hills
Potato Gnocchi With Butternut Squash Puree, Duck Confit, Baby Carrots & Peas
Summerland Cabernet
2007 Santa Barbara
Short Rib Ravioli With With Parsnips, Parmigiano Cream & Rosemary

For reservations, call 704.376.8880.
On Wednesday, Sept. 29, from 7 to 9 p.m. Mez is hosting mixologist Adam Seger (pictured). Seger, will present cocktails with creative ingredients like basil, cardamom, and jalapeno. Look for drinks like the Lemongrass and Thai Basil Mojito featuring gin, dried fruit chutney, and Persian limes or the Spice & Ice, a mango-ginger-habanero daiquiri with seven spice rum.
Plus, enjoy tasty dishes by chef Anoosh Shariat, which will be available throughout the evening at tasting stations. Dishes include ginger-rubbed scallops, duck breast with fig jam, and coriander tuna in a pomegranate glaze, among other small bites.
It's $20 to attend and space is limited so call Mez at 704.971.2400 to purchase tickets now.