Upcoming Food Events (Apr. 15–21)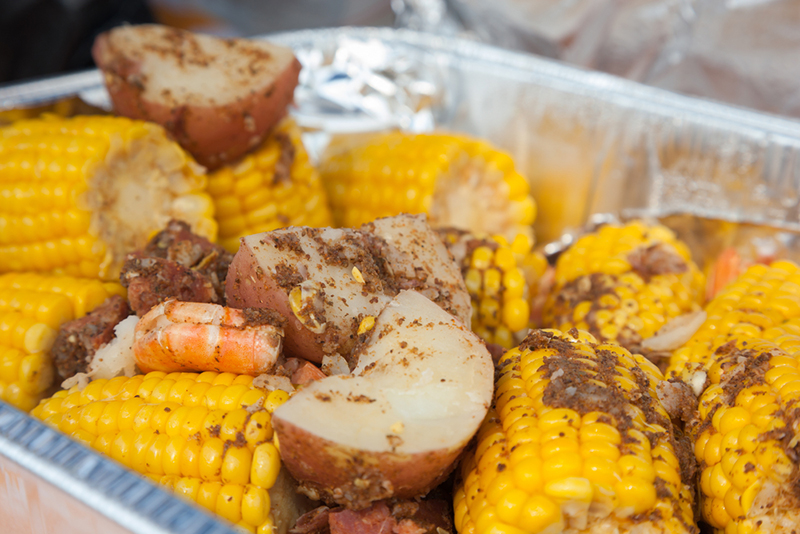 This weekend, all eyes are on a group of Charlotte chefs who have traveled to New York City to cook at the James Beard House. The chefs participating in this special dinner are Ashley Body of 300 East and Heritage, Chris Coleman of the Asbury, Blake Hartwick of Bonterra, and Paul Verica of Heritage. They will be joined by Bob Peters of the Punch Room.
Back home, Reid's will hold a special fundraising event this Saturday to help a member of their team, William O'Kelly, who was seriously injured after being hit by a driver of a stolen truck. The accident left him with two broken ankles, shattered ribs, a dislocated hip, and other injuries. His medical bills and recovery expenses are more than he can afford. Consider stopping by for the Low Country Boil, auction, and raffle to help O'Kelly, a friendly fixture at Reid's since he joined at 2010. Details are below.
FRIDAY (Apr. 15)
The Town of Matthews Parks, Recreation, and Cultural Resource Department hosts local food trucks each Friday. Enjoy the good weather with food and live music at Stumptown Park.
SATURDAY (Apr. 16)
LOW COUNTRY BOIL AND FUNDRAISER AT REID'S
Reid's will hold a special fundraiser for William O'Kelly, a friend and co-worker who suffered serious injuries after being hit on his moped by a driver in a stolen truck. Stop by for their Low Country Boil in his honor, to be held at both their Myers Park and SouthPark locations from 3 p.m – 6 p.m. The meal is available for dining in or take home. Donate $20 and receive a $20 car wash voucher from Wiki Wiki. A silent auction will also give folks the chance to win dinner for six in Reid's Wine Room at SouthPark or a cooking class and wine tasting for 14 at the Selwyn Avenue location. All proceeds from the boil, the auction, along with a percentage of the day's sales will go toward O'Kelly's medical and recovery expenses.
SATURDAY (Apr. 16)
Tickets are still available for the second annual Moo and Brew Festival, to be held at the NC Music Factory. Enjoy live music while sampling beers from 30 breweries and small bites from local restaurants who are vying for the title of "Creative Loafing's Best Burger." The festival will donate a portion of ticket sales to Second Harvest Food Bank.
SATURDAY (Apr. 16)
Stop by the SouthPark location of Foxcroft Wine Co. this Saturday and enjoy a free wine tasting from 4 p.m to 6 p.m. This event is offered by the wine shop each month.
SATURDAY (Apr. 16)
CHOCOLATE AND WINE PAIRING CLASS
Visit the Secret Chocolatier's Ballantyne location for a class where you can learn how chocolate's various flavors can be paired with wine to create flavor shifts in each. Wines will be provided by the Grapes Wine Bar of Matthews.
SATURDAY (Apr. 16)
GLOBAL FEST AT PROVIDENCE DAY SCHOOL
Take the whole family on a trip around the world at Providence Day School through this special, family-friendly event. Make your way through an interactive cultural maze, enjoy international games, shop at the international bazaar, and watch a rugby match or live dancers. Also enjoy delicious food from Street Spice Food Truck, Taco Green-Go Food Truck, Yummi Banh Mi, and King of Pops.
MONDAY (Apr. 18)
If this year's tax bill has you down, take heart: BLT Steak will help ease the pain. All alcoholic beverages are half off this coming Monday for the entire day, including wines by the bottle. The special is available for lunch and dinner.
MONDAY (Apr. 18)
DOGWOOD COMMUNITY SUPPER WITH SUGAR CREEK BREWING
The SouthPark restaurant continues its Community Supper series and its celebration of NC Beer Month with a dinner featuring Sugar Creek brews. Enjoy the local brewery's Raspberry Ale with duck ham and their White Ale with a coriander-spiced venison, along with other pairings. Call to reserve your seat.