Upcoming Food Events (Feb. 4 – 10)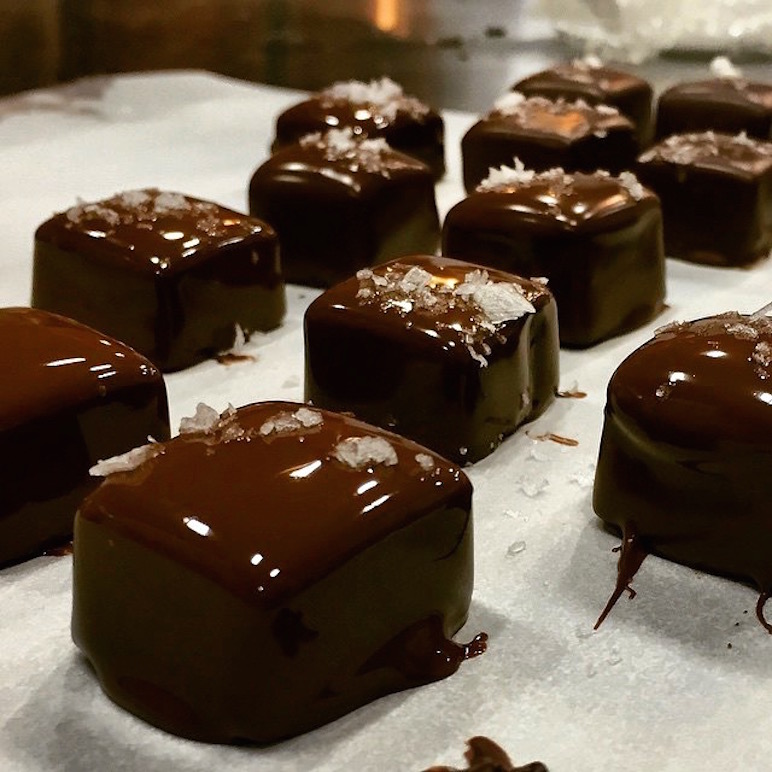 We have a pretty good guess as to what most of you will be doing this Sunday, but here are some other events around town for the rest of the weekend and early next week. If you're looking ahead to next weekend to make Valentine's Day plans, we've got you covered with a list of ideas for that as well.
FRIDAY (Feb. 5)
FREE CHOCOLATE FROM CHEF ALYSSA'S KITCHEN
Chef Alyssa and guest teacher Pierce Lusk of Twenty Degrees Chocolate hosted a chocolate-making workshop this past Wednesday for a lucky few, but the rest of us still win because there were leftovers from the demos—lots of them! They'll be giving away free chocolates (think salted chocolate caramels, chocolate covered almonds, truffles) along with fresh coffee from Pure Intentions. Swing by their space inside Atherton Market any time between 4 p.m. – 6 p.m., but don't wait too long!
SATURDAY (Feb. 6)
SUPER BOWL PREP DAY AT CHARLOTTE REGIONAL FARMERS MARKET
Stock up for the big game on Sunday by visiting the regional farmers market this Saturday morning. Some of the vendors will be passing out game-day recipes. Be sure to check out the local vendors in Building A for locally-sourced ingredients to inspire your Super Bowl spread.
WEDNESDAY (Feb. 10)
HEIRLOOM SECOND ANNIVERSARY DINNER
Help Heirloom restaurant celebrate their second anniversary with a feast of local food and drink. Chef/Owner Clark Barlowe and guest Chef Jeremy Umansky, a fellow forager and fermenter, are collaborating on nine special courses that are sure to include many locally-sourced ingredients. Call to make reservations.
WEDNESDAY (Feb. 10)
HALF-PRICE WINE AT VIN MASTER
Bring a friend to Vin Master and enjoy half-price glasses of wine this Wednesday, and for every Wednesday going forward. If you missed the last Mega-Tasting, pencil the next one in your calendar, which begins at 6:30 pm on February 18.
LOOKING AHEAD
THURSDAY (Feb. 11)
THIRD ANNUAL FOOTBALL FINALE AT THE CHARLOTTE CITY CLUB
Purchase tickets now for an informal evening at the Charlotte City Club to close out a thrilling football season. Enjoy a lively discussion and good food and drink, all in support of a great cause. Several former NFL players, including Panther-fan favorites Wesley Walls and Muhsin Muhammed, will be in attendance to offer insider analysis of key plays from the Super Bowl. Proceeds from the event, which will be emceed by NFL veteran Deems May, will benefit Dress for Success.
THURSDAY (Feb. 11)
We mean the winemaker and the wine, not the vegetable. Enjoy a special evening with Kale Anderson, Director of Winemaking at Pahlmeyer Winery and founder of KALE, a boutique Napa winery specializing in Rhone-inspired wines. The wine dinner, organized by Petit Phllippe and held at Lumiere French Kitchen, will be the first for Anderson in all of North Carolina. Chef Tom Condron's menu for this unique occasion will include Wagyu beef tartare, roasted venison, and Hudson Valley duck breast. Call Petit Philippe to reserve.