Upcoming Food Events (Jan. 26-29)
Oysters, more oysters, some lost wine, and the last chance for Restaurant Week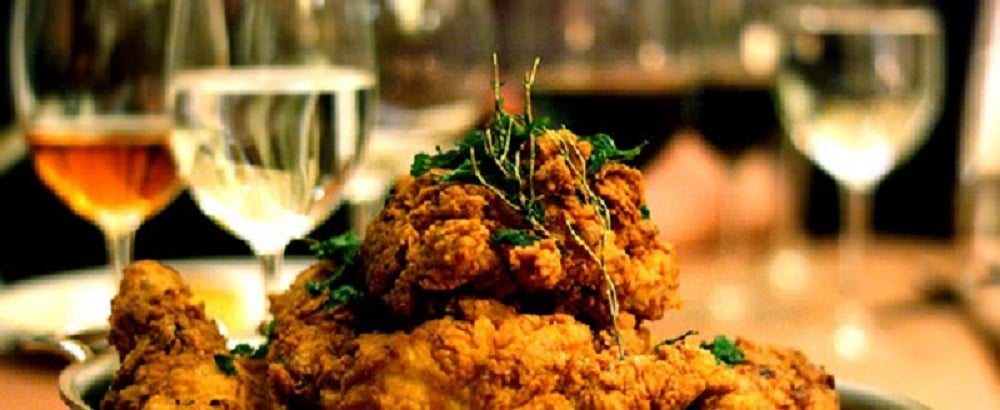 Oyster roasts seem to be an ongoing theme, but even if you don't partake in the little aphrodisiacs, there's plenty to do around the Queen City this weekend.
TONIGHT
LEROY FOX
Celebrate five years with Leroy Fox at their Foxy 5 Year party tonight, Jan. 26 at 7 p.m. The five course dinner with craft cocktail pairings is almost sold out, so hurry. Visit the event page and buy your ticket now. Cost is $45 per person including tax and gratuity.
FRIED CHICKEN & CHAMPAGNE
Sounds like our kind of combo. Head to Dogwood Southern Table for the 2nd Fried Chicken & Champagne dinner. Three courses of shared family style feasting centering around "delicious yard bird" and plenty of bubbly. Cost is $60 per person. Call 704-910-4919 for your spot.
FRIDAY
QUEENS FEAST
Restaurant week is almost over so, if you haven't yet, be sure to visit some of the 130 restaurants around the Charlotte area for fabulous deals on meals. Check out the website and plan your lunch, dinner, or brunch.
LATIN JAZZ NIGHT
After a long work week, head to Blue Restaurant & Bar in uptown to unwind. The Trevor Cook Quartet will serenade diners beginning at 9 p.m. Come listen and enjoy the stellar menu to some upbeat music.
SATURDAY
OYSTER ROAST AT REID'S
Craving oysters? Head to Reid's Fine Foods in Myers Park for the 6th annual oyster roast on Saturday starting at 4 p.m. The event is free and ends when the oysters are gone. There will be plenty of beer specials to wash all the seafood down, too.
THE LOST CELLAR
Sounds scary but isn't; head to Assorted Table Wine Shoppe at the 7th Street Public Market for a taste and compare wine and food pairing for some "lost" wines. The event was created when Chef Taylor Kastl of Tayste Catering moved into a new home and discovered a stocked wine cellar in the basement. Talk about lucky. Event starts at 6 p.m.; cost is $50 per person; prepaid reservations only. Snag your spot by calling 704-277-3234.
SUNDAY
BRUNCH & BRUSH
Recovering from Saturday night? Temper the hangover demons with brunch and painting at City Art Room from 11:30 a.m. to 1 p.m.. Guests are welcome to bring mimosas, beer, water, Gatorade, etc. to sip on (no liquor) and are encouraged to have food delivered to the studio. Guests can choose from painting on canvas, coloring in adult coloring books, finger painting, and more. Cost is $17 per person; tickets are refundable 24 hours or more before event.
OYSTER ROAST AT THE GARDENS
Need more oysters? We hear you. Head to Daniel Stowe Botanical Gardens on Sunday from 1 to 4 p.m. Oysters will be provided by Saltwater Markets in Clover, SC, and a selection of beer, wine, and cider will be on hand from Red Clay Ciderworks. Reservations are required by noon on Friday; cost varies.
ON THE RADAR
COCOA LAB CLASSES
With Valentine's Day on the way, what better time than now to head to the Ritz's Cocoa Lab for a class on the art of chocolate? On February 11 and 12, the Lab will offer a class on the cooking techniques and preparation of molten chocolate cake, chocolate covered strawberries, chocolate truffles, and chocolate macarons from 8:30 a.m. to 12:30 p.m. Students will, of course, be allowed to eat the fruits of their labor after the session, will receive complimentary hotel parking, a recipe collection, and a keepsake apron as part of the $150 class fee.
SECRET CHOCOLATIER
The Secret Chocolatier is celebrating the month of love with a special class – "Intimacy with wine and chocolate." The class will take place on February 11 and February 18, each at 7 p.m. Located at The Secret Chocolatier's Ballantyne spot, attendees are invited to enjoy a pairing of specialty wines and plated chocolate desserts. A portion of proceeds will benefit Crisis Assistance Ministries. Space is limited; reservations required. Call 704-323-8178 or visit the website.
FOXCROFT VALENTINE'S DAY WINE DINNER
Enjoy a five course dinner and wine pairing at Foxcroft Wine Co. SouthPark on Valentine's Day – Tuesday, February 14. Chef Christopher March has created a special menu paired with five wines. Seating is limited, so book this one ASAP. Event starts at 7pm; cost is $75 per person. Call 704-365-6550 to reserve your spot.
BALLANTYNE HOTEL WINTER WEEKENDS
Every Friday and Saturday from 8:30 to 10 p.m. in February enjoy Winter Weekends at The Ballantyne Hotel & Lodge. Guests can experience a dessert bar and Champagne bar as part of couple's date night for $28 per couple plus tax and gratuity. The deal includes one beverage per person and a shared delicacy. Additional items can be purchased a la carte; hotel rooms purchased with the Winter Weekend special can be enjoyed at 15% off, as well, through February 19, 2017. Reserve your spot now by calling 704-248-4100 or visit the website for more information.