Upcoming Food Events (May 12 – 18)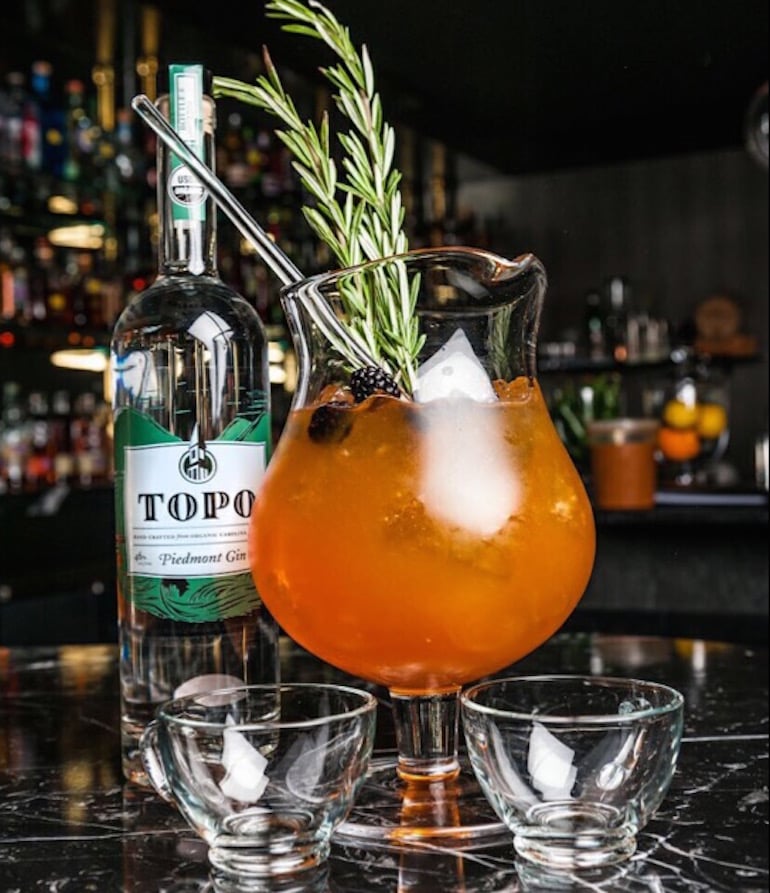 May stays busy with a host of events, and this week is no different. In addition to having some fun, the next few days also offer Charlotte gourmands a chance to learn more about local ingredients, local beers, local spirits, and local chefs.
THURSDAY (May 12)
This fun and unique evening will see two of The Asbury's line cooks pitted against each other in a competition that celebrates local produce. Aaron Valenstein and Ben Maguire will be faced with the task of creating a delicious small plate using mystery ingredients from this week's CSA delivery from one of The Asbury's local providers, Small City Farm. The cook with the most sales at the end of the night wins. The event also allows attendees to learn more about CSAs, or "community supported agriculture" programs, which support area farmers while giving you the benefit of fresh, local produce each week.
THURSDAY (May 12)
BEERS & BITES AT VILLAGE TAVERN
Village Tavern and Olde Mecklenburg Brewery (OMB) have teamed up to create a fun event filled with craft beer and food. Enjoy four of OMB's popular brews, along with bites like firecracker shrimp, pimento cheese deviled eggs, and BBQ chicken flatbread. Email or call to reserve.
SATURDAY (May 14)
START AT THE MARKET, KEEP IT LOCAL: COOKING CLASS AT MIMOSA GRILL
Get insider tips for shopping at farmers markets from Chef Tom Marlow of Mimosa Grill this Saturday during their monthly cooking class. Learn what to buy and where to buy it, along with tips for selecting the best ingredients. Call to reserve.
SATURDAY (May 14)
STRAWBERRY DAY AT YORKMONT REGIONAL FARMERS MARKET
Visit Charlotte's largest farmers market this Saturday and enjoy strawberry ice cream made right here in NC. Purchase fresh, locally-grown strawberries to take home, along with desserts, wine, breads, cheese, meat, and other produce.
SATURDAY (May 14)
Both locations of Reid's will host an Eat Local Day this Saturday to highlight some of their local vendors and their unique offerings. Products for sampling will include Carolina Chocolate Company, Slawsa, and Palmetto's Pimento Cheese. The event is also designed to introduce shoppers to their in-store butchers and cheesemongers; cheese and charcuterie samples will also be available.
SATURDAY (May 14)
EARL'S MIXOLOGY LAB: TOP OF THE HILL DISTILLERY
Join local mixologist Bob Peter's at Earl's Grocery this Saturday as he kicks off his "Summer of Locals" series, which features distilleries from our region. This month's class will showcase spirits from Top of the Hill, a Chapel Hill distillery making organic vodka, gin, and whiskey. These classes are free, but Earl's strongly suggest arriving before 2:30 to get a seat.
MONDAY (May 16)
You can still make plans to attend this six-course tasting of desserts, which starts first with a round of passed h'or d'oeuvres, including blue crab beignets with a Key lime & cilantro remoulade. Dessert courses include a walnut cake with blue cheese and a rhubarb and rosé sabayon and a chevre and roasted grape custard paired with a dark chocolate and raspberry custard. The event is a collaboration of six local chefs to benefit local charity organization Project 658. Purchase tickets online.
TUESDAY (May 17)
ANDERSON CONN WINE DINNER AT AIX EN PROVENCE
Aix en Provence is collaborating with Bond Street Wines and Fine Wine Trading Company to bring you an Anderson's Conn Valley Wine Dinner this coming Tuesday. Enjoy a cocktail reception and hors d'oeuvres beginning at 6:15 p.m., followed by a seated dinner at 7 p.m. Courses include roasted corvina with melted leeks and beurre rouge, butter poached lobster salad, and a duo of lamb. Purchase tickets online.
TUESDAY (MAY 17)
WINE & DINE COLLABORATIVE DINNER AT REID'S
Join Chef Lewis Donald and Pastry Chef Christine Guerriero of Reid's South Park, along with Chef Paul Verica of Heritage and Chef Chris Coleman of The Asbury, for a wine dinner that involves fresh scallops with cornbread cream and osso bucco with a farro and peanut risotto. This five-course meal is a truly collaborative effort, from the food to the Ramey Cellars wine pairings to the table settings, courtesy of nearby Williams-Sonoma. Call to reserve.