Upcoming Food Events (Sep 1 – Sep 7)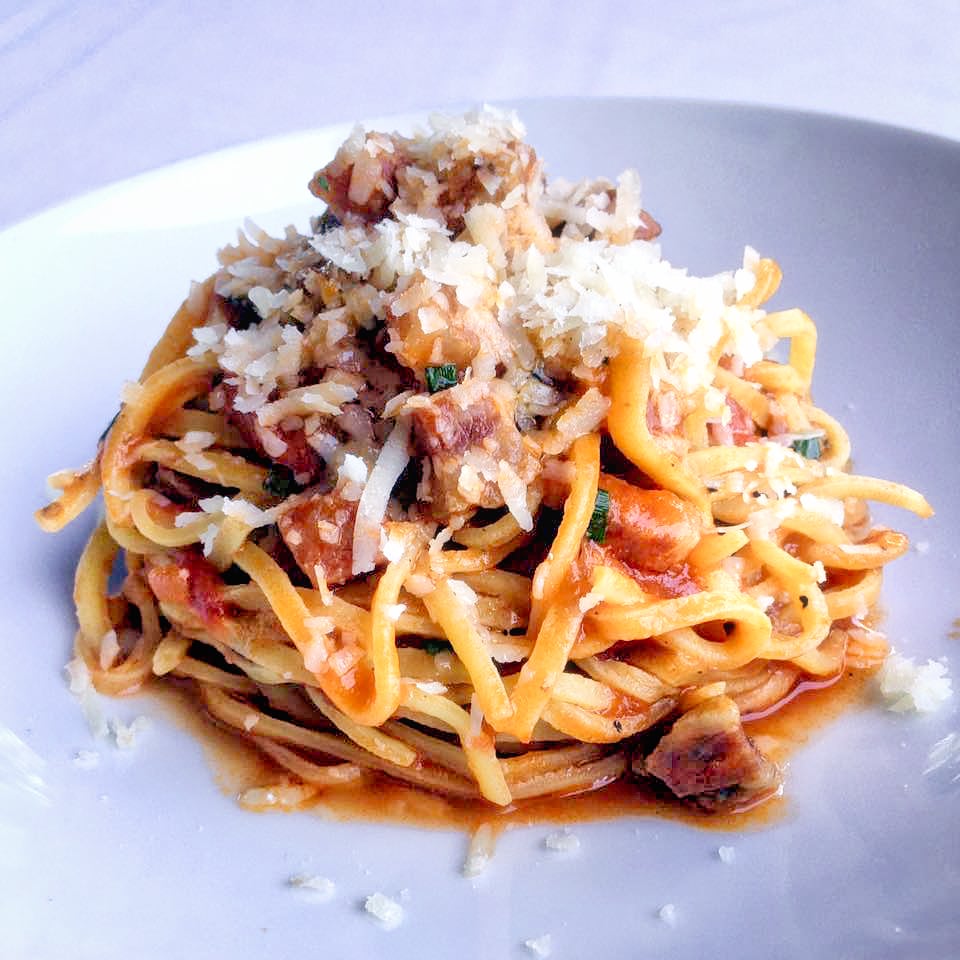 The long weekend offers a lot of chances to indulge and, at two local restaurants, for a good cause. This weekend and next week, enjoy good food and drink as you listen to the spoken word, or after you've gone paddleboarding on the Catawba, or when you're just sitting around catching up with friends and family.
THURSDAY – SATURDAY (SEP 1 – 3)
SPAGHETTI ALL 'AMATRICIANA FUNDRAISER FOR ITALIAN EARTHQUAKE VICTIMS
Aix en Provence and Pasta & Provisions continue their fundraiser to help earthquake victims in Italy. Order the spaghetti all' Amatriciana from now through this Saturday, and the two restaurants will donate all of the proceeds to benefit the Italian Red Cross. Plans for a ceremony to announce the amount of funds donated during the campaign are scheduled for next Thursday.
THURSDAY (SEP 1)
Not Just Coffee and The Crock will host an event at Packard Place called The Grind, an evening where stories will be shared over a cup of coffee. Each story told will be paired with a serving of coffee with the intention of enhancing the experience of live storytelling. Speak to coffee professionals during receptions before and after the show to learn more about ethical sourcing and stewardship.
FRIDAY (SEP 2)
LORRAINE WINE TASTING AT BOND STREET WINES
Learn about this ancient wine producing region of France called Lorraine during this special tasting. Guests will sample wines from this lesser-known area as they learn about its history, geography, and more from Queen of Wines.
SATURDAY (SEP 3)
OLIVE OIL & WINE TASTING AT DAVESTE VINEYARDS
Spend this Saturday afternoon at a local vineyard and enjoy a complimentary tasting of olive oils and vinegars from olive oil-producing countries over the globe brought to you by Isabella's Fine Olive Oils and Vinegars. Products will be available for purchase and, of course, wine will be available for tasting as well.
SUNDAY (SEP 4)
Spend Sunday afternoon over the long weekend learning about various tequila styles. Explore how to make margaritas using fresh ingredients. The session will be held at the Veranda Bar at The Ballantyne Hotel & Lodge. On the Friday before, The Gallery restaurant will hold a tequila and mezcal comparison tasting. Reservations are recommended for both events; call to reserve.
TUESDAY (SEP 6)
LORRAINE WINE TASTING AT CORKBUZZ
If you couldn't make the tasting and Bond Street over the long weekend, you still have a chance to at Corkbuzz. Queen of Wines will be on hand to guide guests through a discussion about this wine producing region of France called Lorraine.
WEDNESDAY (SEP &)
UNWINED WITH TERRAZAS: ADVENTURE DINING AT USNWC
Take a flatwater stand-up paddle boarding trip on the Catawba River before enjoying a fireside, chef-prepared dinner back on shore at the Ridge Landing. Unwined events feature tastings of one local, regional, or national winery; this event will include six samples from Terrazas. Registration must be completed at least 24 hours in advance. Be prepared to get wet.
ONGOING
SUNDAY BRUNCH IS SERVED AT BLOCK & GRINDER
The Block & Grinder restaurant at Langtree will begin serving lunch and Sunday brunch this Labor Day weekend. Both the original and Langtree locations have brunch hours from 10:30 a.m. to 2:30 p.m.