Upcoming local releases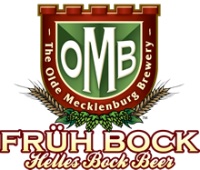 Here's a glimpse at several new beers being released this week from local breweries:
• Just in time for these 70-degree days (a nice change), Olde Mecklenburg is releasing their spring seasonal, Früh Bock. OMB has two other bocks out in the winter, Bauern Bock and Yule Bock, but Früh Bock is a refreshing beer to help signal the weather change, and its smoothness nearly masks the fact this beer is 6 percent ABV. Enjoy it while the weather's warming up, as today (Friday) at noon marks the official release at the brewery.
As an aside, the folks at OMB have been doing a terrific job documenting the construction in their planned move to a larger site this spring. Their latest Instagram photos show Olde Meck's new brewery tanks, which came in this week.
• This weekend marks one of the top festivals in the Southeast. No, not Black & Blue (that's next weekend, and definitely is in this category), but Brewvival. The fourth annual event in North Charleston, SC, brings together some of the best breweries and beers in the country. (If you dare, here's this year's list but be warned —jealousy is likely to occur.)
Local brewery Holy City decided to collaborate with several other breweries as part of their 2014 contributions, and one partnership is with NoDa Brewing. What the two breweries came up with is Shades of Grace, a blend of Holy City's American porter, Graveyard Shiftee, and NoDa's Imperial Coco Loco. No need to feel like you missed out, however. NoDa Brewing will tap Shades of Grace at the brewery Monday.
• As you may have read, Unknown Brewing finally got the green light to begin using their in-house system. Along with getting their flagship ales ready for distribution out into Charlotte's bars and restaurants, Unknown is also wasting no time in brewing some unique batches you can only find (for now) at the brewery. First up is Dirty Common Heathen, which will be released Sunday. DCH is Unknown's Russian Imperial Stout, brewed with dried cherries soaked in bourbon barrels. I'm told it gives off a great balance of chocolate, bourbon and cherries, and am eager to try this big (13.2 percent ABV) beer.
• Finally, Birdsong's wonderful Honey Pie DIPA has been out for a few weeks, but today (Friday) at the brewery they'll have a special cask dry-hopped with Chinook and Columbus hops. Birdsong Brewing also debuted a new Web site this week, which has a ton of information about the brewery and beers.