Upcoming releases from Triple C, Birdsong and Sugar Creek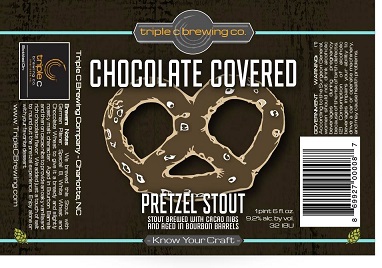 Fall in love with these new and returning Charlotte craft beer releases:
–One of the more bold and appealing beers that debuted last year is back for its second run. Triple C will be releasing Chocolate Covered Pretzel Stout this Saturday at the taproom beginning at noon. When word of this beer first came out last February, many were intrigued by the idea of the ingredients: German Pilsner, Special B and white and chocolate wheat (creating the pretzel breadiness aspect), and then aged in bourbon barrels and on cacao nibs.
And head brewer Scott Kimball, who has been at the forefront of Triple C's barrel-aging series, did an outstanding job here, all the way down to being able to taste the hint of salt that was added in on the back end. It was definitely one of my favorite new beers of last year, and I'm excited to see its return.
Bombers of Chocolate Covered Pretzel Stout will be available for sale for $14 each, with a limit of six per customer. The beer will also be on tap at Triple C, which will have OooWee BBQ food truck on site all day as well as live music from Wicked Powers from 4 p.m. to 7 p.m. as part of the release celebration.
–Love is in the air at Birdsong Brewing, which is releasing two small batches this week in honor of Valentine's Day. First up is My Bloody Valentine, an IPA that was brewed with fresh squeezed blood orange juice. The brewery describes this beer as having "bright citrus notes" with "hints of grassiness and hop aroma complementing the oranges for a crisp, flavorful treat." My Bloody Valentine releases Thursday at the taproom at 6 p.m.
On Valentine's Day itself will be Let's Get it On, a stout that is brewed with roasted malts and cacao nibs, along with Kirsch and brandy-soaked cherries. This cherry chocolate stout will be tapped at noon on Sunday. Both small batches will only last for a limited time, so it'd be wise to get out to Birdsong sooner rather than later.
–In keeping with the romance theme, Sugar Creek Brewing is tapping Pucker Up, a sour saison on Friday. On its Facebook page, Sugar Creek says to "expect a traditional farmhouse ale that is surprisingly sour, yet ridiculously refreshing." The brewery will be tapping Pucker Up at 2:14 p.m. (get it? 2/14) on Friday, and it will be a taproom-only release.