UPDATED: Elizabeth's Crown Station to Close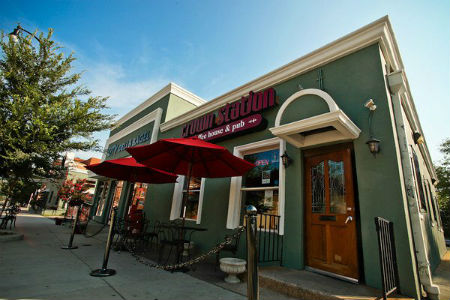 EACH DAY, Crown Station serves the Elizabeth neighborhood as both a coffee house and a pub. And most nights, it entertains the neighborhood, too, with music or live comedy on its modest stage. But like a handful of other venues in Charlotte this past year, Crown Station announced that it must close. A Monday Facebook post began with the following: "We regret to announce that against our best efforts, we are being forced out of our building by the powers that be."
The Facebook page has been flooded by notes of encouragement and condolences, from both Crown Station regulars and other Charlotteans concerned about the trend of venue closures throughout the city. "It's always nice to have people reach out in support," says Michael Dawson, vice president of Crown Station. "I'm not totally surprised by it, though. When you see lots of music venues and small businesses close and the overwhelming development in Charlotte, you see why. People are tired of it."
The venue has occupied a spot between Central Piedmont Community College's Central Campus and Novant Health Presbyterian Medical Center for five years. FOX46 reports that the owner of the shopping plaza that Crown Station inhabits had to sell for financial reasons. CPCC is set to purchase the center for its own development. Dawson, a CPCC alum, says he doesn't blame the school for purchasing the property. But he says the potential business from the CityLynx Gold Line streetcar was one of the reasons they moved into the spot. "This is one of the big problems of this situation," Dawson says. "We came in with the goal of helping to revitalize the Elizabeth neighborhood. But in the past five years, it's been tough. We were there for the ribbon-cutting of the streetcar, and then three to four months later, this happens. But we're staying positive."
Typical weeks include the music-centric open mic night Music and Arts with the Happy Hippie on Mondays, and Free Beer Open Mic Night on Wednesdays for fans of stand-up comedy. Dawson says that he and Billy Dail, president of Crown Station, are "scrambling" to find a new venue to host the business. They're looking at a NoDa location as one possibility. Depending on the new location and circumstances, they may have to adjust the business model of Crown Station. The daytime foot traffic from CPCC and Paul Mitchell The School Charlotte, the primary clientele for Crown Station's coffee shop, may not be present in another neighborhood.
The Crown Station co-owners tentatively see March 31 as the last day for Crown Station. The social media post says "we're going to make the last few weeks we have the most memorable." It also mentions a farewell/anniversary party. This weekend's shows include two other regular events, TechNo You Didn't and the "Memory Lane Edition" of Off the Wall.