Uptown Hotel Tower to Feature Work of 17 Local Artists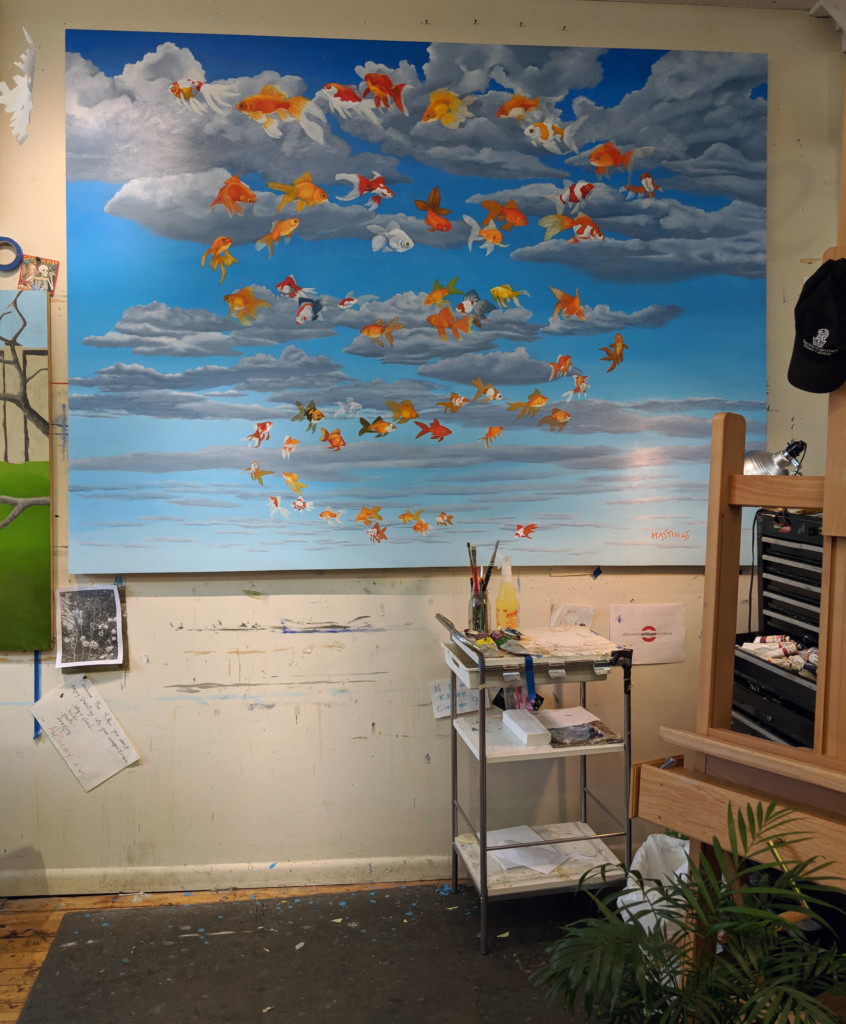 THE WORKS of 17 local artists will be part of the upcoming Charlotte City Center Tower, intended for walls and exteriors of the AC Hotel and Residence Inn, Nuvole Rooftop TwentyTwo, and a rentable penthouse suite. The unprecedented art program from McKibbon Hospitality comes from a partnership with Paul Picarazzi of Vision Ventures and North Carolina-based art consultant Liz L. Barr of Art Resources.
We recently visited the studios of three of the chosen artists to see what they were working on for the project. Here's what they had to say about the work chosen:
Paul Hastings, painter, on the idea behind the work:
"I did piece for CaroMont Health in Gastonia for their children's pediatric emergency waiting room for the kids, with the goldfish in the sky for the kids to take their mind off their ailment. It started with a small painting, with the idea of the goldfish being confined to a bowl and asking, 'What if they could fly out?' … Then, Liz Barr contacted me after seeing the piece made for CaroMont and said, 'You know, we're doing a seafood restaurant.' And the name of the restaurant (Nuvole) literally means 'clouds' in French."
---
Lori Love, mixed-media artist, on her process:
"I map out the piece with the blacks of the vinyl, which serve as the negative space. Then, from there, I do everything else recycled, too. My friend Jimmy at Repo Records, rather than dumping his old vinyl, he gives it to me. And then for the collaged portions, I used the inner vinyl sleeves. … Then, with other parts of the work, I use VHS tapes. I vacillate between the abstract and the figurative. I think it's interesting to ask, 'What do you do with an artform, once it's obsolete?'"
---
Paul Rousso, sculptor, on his enormous, plexiglass recreations of paper products like comic books, newspapers, cereal boxes, and currency:
"Print still seems to be on its way out. Some day, a kid is going to be standing in a museum and he'll point at that and say, 'Mommy, what's that?' Print brought us out of the Dark Ages, and then it's over. It may be the comics or the money or the book pages I'm connected to (in a nostalgic way), but it's really about all of this stuff, which is all just ink on paper."
---
Other selected artists include Sharon Dowell, David French, Denny Gerwin, Matt Moore and Matt Hooker, Matt Horick, Elijah Kell, Tomoo Kitamura, J. Ashley Knight, Ashley Lathe, Monique Luck, Jeff Pender, Jim Watts, and Eliyahu BenYsrael.
Read more about the tower project here.