Uptown on the Half Shell: Inside the City's Newest Coastal Seafood Spot
Caroline's Oyster Bar anchors a luxury hotel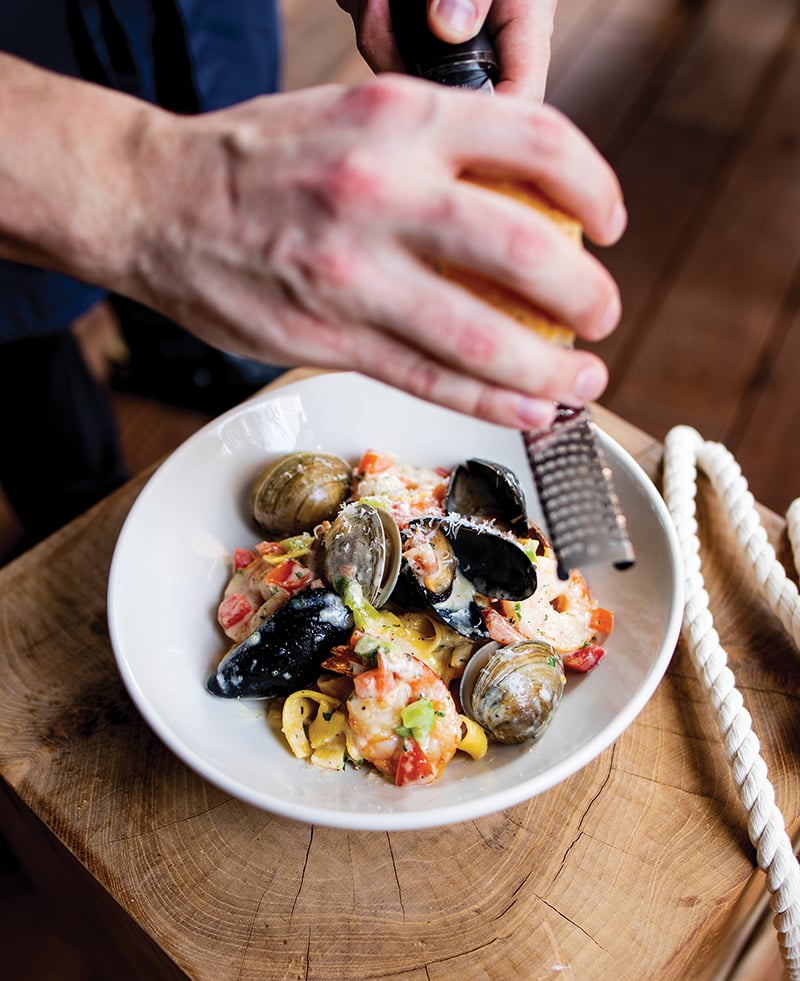 For close to two years, uptown restaurants have struggled without the lunchtime crowds and expense account holders that once filled their tables. But construction has continued on skyscrapers and mixed-use office buildings like the Ally Charlotte Center, which houses the JW Marriott that opened in August. The 22-story hotel has three dining options: Dean's Italian Steakhouse on the ground floor, Aura Rooftop Bar on the fifth floor, and Caroline's Oyster Bar on the second level. It's a sign that the once-bustling banking district is on the rebound—and hungry customers are ready to fill those tables again.
Caroline's Oyster Bar has a chic nautical theme that's nothing like a kitschy crab shack. A custom rope installation by artist Windy Chien surrounds the 360-degree bar in the center of the dining room, and globe pendant lights wrapped in fishing nets hang from the ceiling. An eight-seat raw bar displays the day's oyster selections, and a mix of high-top tables and circular booths occupies the dining room. On clear nights, glass doors open to a covered patio with natural ipe wood decking and ceiling fans and space heaters that run depending on the season.
The craft cocktails aren't far-reaching or overly imaginative, but the staples are all there. Caroline's Old Fashioned ($15), with bourbon, vanilla demerara, and black walnut bitters, is their spin on the classic cocktail. The Blueberry Coco-Jito ($14) is a fresh take on a standard mojito. You can also order wine by the glass and a selection of local and regional brews like OMB Hornet's Nest and Wicked Weed Pernicious IPA.
Start with a cold appetizer like the Spicy Tuna Tartare ($18), Scallop Ceviche ($15), or a classic Shrimp Cocktail ($16). If you brought a few friends or you're celebrating a special occasion, splurge on the Seafood Plateau, a tower of oysters, shrimp, and king crab that comes in three sizes: Petite ($50), Caroline's ($150), or Grand ($225). And if you came for the oysters, ask your server about the daily selections. The raw bar gets shellfish from Morehead City, Hampstead, and other spots along the Carolina coast.
Hot appetizers include BBQ Shrimp ($17) and Crab Hush Puppies ($12) that are so good, you might need to order two. If you're craving something green, the Seaweed Salad ($10) is a refreshing mix of edible seaweed, romaine, pickled red onion, and cucumber.
For a larger dish you don't have to share, try the Lobster Roll ($22) with citrus mayo on a buttered roll. The Halibut Fish & Chips ($26) is a straightforward but not-too-greasy plate of beer-battered halibut with shoestring fries. If you don't mind prying open a few shells, go for the Steamed PEI Mussels ($22) with a side of toasted sourdough to soak up the garlicky beer sauce. For carnivores, there's the Brush Creek Ranch 100% Wagyu Burger ($17), with two brisket patties layered with American cheese and pickles.
Caroline's portions aren't overwhelming, and the seafood isn't heavy and deep-fried like a typical beachside shack, so there's a good chance you'll have room for dessert. The menu has a predictable but solid lineup of Gooey Butter Cake ($8), Chocolate Peanut Butter Pie ($8), and a Cast Iron Brownie ($8). You can also get a scoop of ice cream at the Golden Cow Creamery on the Tryon Street side of the hotel and take a stroll through uptown.
If you don't have a curfew and you'd rather stay for a nightcap, ride the elevator up to Aura Rooftop. Grab a seat at the bar or on a couch, sip a Negroni or glass of rosé, and take a moment to savor the view of the expanding uptown skyline.
Don't leave without trying: The BBQ Shrimp ($17) with crispy grit cakes in a bowl of Creole butter.
KNOW BEFORE YOU GO: Fresh seafood can get pricy, so come for High Tide Happy Hour Monday-Wednesday from 4 to 6 p.m. Select shareable plates and half a dozen oysters are just $8.
Caroline's Oyster Bar
120 E. Stonewall St.
Hours:
4 p.m.-11 p.m.
Monday-Thursday
Bar until 12 a.m.
4 p.m.-12 a.m.
Friday-Saturday
Bar until 1 a.m.
4 p.m.-10 p.m.
Sunday
Bar until 11 p.m.