Urban Sophisticate
Uptown's alfresco location proves to be the perfect setting for a young couple to say "I do"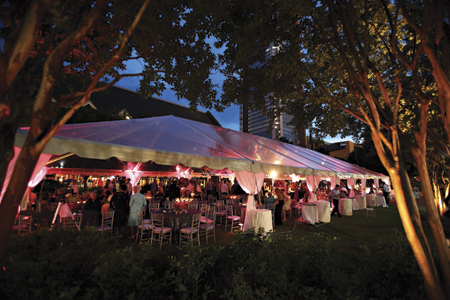 Some girls dream of a fairy tale romance. Elle Ghomizadeh, twenty-seven, learned about the concept from her grandparents. "What they had was true love," she says, whose grandfather "Pap" passed away in 2005. Flash-forward to a chance meeting with Todd Allen, thirty-three, that same year, a two-and-half-year romance, and an impromptu trip to Vegas, where he popped the question — and she found true love of her own.
The Green Uptown set the stage for the couple's May 16 wedding. Everything was centrally located: a sushi dinner with family and friends at Nikko Japanese Restaurant, a guys' bowling night at Strike City at EpiCentre, a girls' luncheon at Providence Café, and a mani/pedi party at Polished. But Bentley's on 27 was the place for the rehearsal dinner, where toasts were exchanged and the red velvet Clemson groom's cake (in honor of Todd's alma mater) was cut. The next day, the 5 p.m. ceremony was held on the top of The Green. Following her J.Crew-clad bridesmaids, the bride made her entrance in a Monique Lhuillier gown discreetly accented with one of Pap's tie clips.
A cocktail hour kicked off on the second tier with Firefly sweet-tea vodka cocktails, passed apps, Frank Sinatra tunes, and a table of cigars with a picture of the cigar-loving Pap. Guests were then served cool sorbet before heading to the flower-filled reception on the bottom tier, where a photo booth and the Dickens Band kept the party going. When the 185 guests weren't dancing, they hit the sweet potato bar and pasta and sushi stations. And for the after party, the group moved to Mez for VIP treatment with bottle service and private roof access.
But the fun didn't stop there. On the day of the wedding Elle received a special message. "Every day for a week before the wedding Todd gave me a clue to where our honeymoon was," says the ecstatic bride (her best friend had secretly already packed her bags). "I couldn't believe when I read: We're going to Italy!" she says. "It was a perfect happy ending."
Click on any image below to view the photo gallery