Valaida Fullwood Gives Back
A local writer redefines philanthropy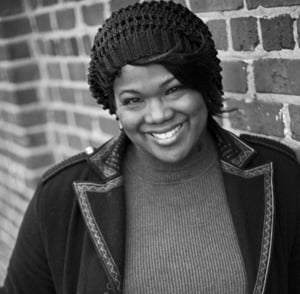 Even as Bill Gates and Warren Buffett made news with their generosity, Charlotte writer Valaida Fullwood was set on redefining philanthropy. With the help of photographer Charles Thomas, Fullwood gathered stories from African American donors, activists, and humanitarians for her lush coffeetable book Giving Back: A Tribute to Generations of African-American Philanthropists, released this month by John F. Blair, Publisher.
What made you think that philanthropy needed to be reexamined?
Too often, media reports and annual reports from foundations only show African Americans on the beneficiary side of philanthropy. The other way around is not told as often. I wanted to collect the photos and stories that provided a counternarrative on traditions of philanthropy and giving.
What struck you when you were gathering these stories about the types of "givers" there are in our community?
A theme throughout was the gap that existed between the language we have around philanthropy and the kind of day-to-day giving that goes on in black communities. I think if people gave more credit to that type of small-scale philanthropy, people would think more about ways they could make a difference. I would approach potential subjects of modest means who would say, "I'm not a philanthropist," because they couldn't make that connection. It took some convincing.
What's an example?
One of those stories that stands out is Elizabeth Ross Dargan. She was a retired schoolteacher in CMS who grew up in a rural North Carolina town and had a real commitment to giving. She gave to United Way campaigns and served on boards. When she passed, she bequeathed about a quarter of a million dollars to several nonprofits, including Charlotte's Urban League. We interviewed her niece, who was the executor of her estate.
How long did this process take?
Way longer than I thought. Four and a half years, total. We needed to raise funds and needed the involvement of hundreds of people. Time to interview, time for photo shoots—there were so many factors at play. Plus the economy tanked in the middle of it. That changed a lot of how people were investing their charitable dollars.
I'd think in some ways that would make the stories you were looking for even more relevant.
Yes—while the economy made it more difficult, project-wise, to raise funds and move forward, it also solidified my resolve that this was a relevant project. It was so timely. These stories from everyday people and from communities of people who have overcome hard times and still found ways to be charitable.
How did you and Thomas pair up?
We had crossed paths professionally over the years, since he's director of education at the Light Factory. As I was rolling out the project, I knew that I wanted the same photographer throughout the book—not a hodgepodge of styles. I also wanted somebody who could approach this with an artistic point of view. Our vision and interest in our cultural heritage and artistic sensibilities completely lined up.
How did you go about finding these stories?
At first, we approached the project with the concept of a tribute-sponsorship, as a way to both raise funds and to get stories out there. People who wanted to share their story or pay tribute to someone they saw as a philanthropist could give a minimum of $365 to the project, and I would interview them for a two-page spread. At one point, we had a huge event with fifty or so people, and I crafted ten questions for the attendees to answer on a piece of paper. It proved fruitful—those ten questions became the ten chapters of the book.