Veg Out on Upscale Vegan
No longer relegated to the markets, vegans now have some fine-dining choices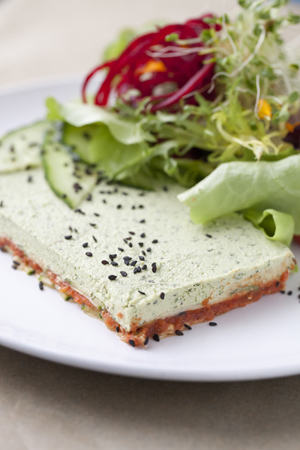 Charlotte has long boasted a selection of markets, like Healthy Home Market and Berrybrook Farms, where vegans could fill up their shopping bags. But lately, the vegan scene has gone upscale. Here's a look at the new wave:
Luna's Living Kitchen
2102 South Blvd.
704-333-0008
lunaslivingkitchen.com
If you can't stand the heat, get into Luna's Living Kitchen. The South End staple caters to Charlotte's pure-food elite with "clean" eats prepared at temperatures that don't exceed 108 degrees. A small team of culinary artists (they don't call themselves chefs here) finesse local organic vegan ingredients into masterpieces, from smoothies and salads to unexpected entrées like the Lunasagna—layers of paper-thin zucchini noodles, sun-dried tomato sauce, crimini mushrooms, and raw vegan cashew basil cheese ($11.50).
Fern: Flavors from the Garden
1321 Central Ave.
704-377-1825
fernflavors.com
Executive Chef Alyssa Gorelick transforms traditional meat- and dairy-heavy dishes into hearty vegan-friendly fare that appeals to herbivores and their carnivorous companions alike. Warm up with comfort foods like Mushroom Farro Risotto and Sweet Potato Gnocchi, or try the OM Burger for a sophisticated twist on a humble American favorite. The crispy patty is made with white beans, tofu, and hemp seed and topped with pickled fennel, smoked tomato chowchow, and spicy jalapeño aioli ($10).

Brixx Wood Fired Pizza
Five locations
brixxpizza.com
This locally based chain caters to requests by swapping honey for turbinado sugar in its crust and roasting all its vegetables in an olive oil blend. The Wood Roasted Vegetable Pizza is a favorite, but any of the pizzas, salads, or sandwiches can be topped with vegan cheese.