Vegan Soul Food: On the Rise in Charlotte?
Locals are embracing familiar comfort foods with a twist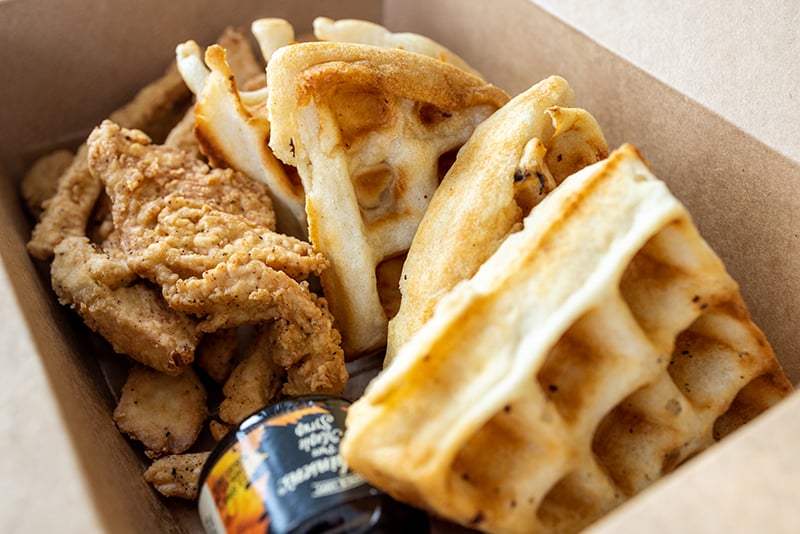 In December, after four years of hawking her vegan sweet potato spice cake and other plant-based dishes at the Charlotte Regional Farmers Market, Dee Hairston opened her first brick-and-mortar vegan restaurant, Dee's Vegan To-Go, on West Boulevard. The St. Louis native serves homemade vegan comfort foods like Fried Chix Tenders & Waffles with vegan "chicken" tenders battered with coconut milk and seasoned flour, and Hearty Black Bean Chili with organic black beans and Beyond Beef.
Hairston—who won't disclose her age but admits she has grandchildren—learned to cook traditional soul food from her mother and grandmother, and she picked up some techniques from a few semesters at Johnson & Wales and Central Piedmont Community College. But 11 years ago, she decided to drastically change her diet. She'd lost her mother, grandmother, and two aunts within five years of each other, all from conditions that have often struck people of color through the decades: diabetes, heart failure, chronic obstructive pulmonary disease.
Hairston, who grew up eating the same dishes they did, knew she was at risk, too. She began to swap out, for example, fried chicken for tofu and coconut milk for heavy cream. She gradually learned to make her own version of vegan soul food through trial and error and her beloved cookbook collection, which she's built over 30 years. "I would practice, drill, and rehearse," she says. "Of course, my family was my guinea pig."
Instead of traditional, animal fat-laden Southern cuisine, Hairston landed on a health-conscious modification that's catching on in Charlotte and other American cities. In the past year, in defiance of COVID's vise-like grip on the restaurant industry, at least a half-dozen vegan comfort or vegan soul food restaurants, food trucks, and pop-ups have opened in Charlotte. In Atlanta, Lil Baby, Snoop Dogg, and Tiffany Haddish frequent The Slutty Vegan, a vegan burger joint where customers wait in line for as long as three hours.
Black celebrities have helped spread the word about vegan cuisine's benefits. Serena Williams, Erykah Badu, and Colin Kaepernick often post about their plant-based diets on social media, and last year Kaepernick launched a vegan Ben & Jerry's ice cream flavor, Change the Whirled, a blend of non-dairy caramel and fudge chips with graham crackers and chocolate cookies. It figures that the enthusiasm has spread to restaurant owners: In the first months of the pandemic, more vegan restaurants opened in the United States (517) than closed (413), according to a summer 2020 report in the online vegan and vegetarian restaurant guide HappyCow.
Chenelle Bragg, who opened Best of Both Souls in the Wesley Heights neighborhood in September, is another one of these pioneering chefs. Bragg, 43, grew up in Detroit but as a child ate Sunday dinners at the home of her maternal grandmother, a native of Meridian, Mississippi. The food was pure Southern—fried chicken, collard greens with fatback, black-eyed peas, chitlins—and she retained some of her eating habits into adulthood.
But a diverticulitis diagnosis convinced her to think harder about what she ate, and she soon discovered that a plant-based diet helped control her flare-ups. "Soul food, to me, is when you're cooking from yourself," she says. "You're cooking with love, you're cooking with passion, and it's food that's good for yourself."
After she moved to Charlotte, Bragg worked in local restaurants and as a private chef before she opened Best of Both Souls. Her most popular menu item is a soy-based Nashville hot chicken sandwich served between two buttery (vegan) buns.
Of course, changing your own diet is one thing. Convincing others who were raised on Grandma's down-home cookin' on Sunday afternoons is another. But many vegan chefs say customers embrace the dishes once they try them. "I give them a sample, and they always order," says Akil Courtney, owner and chef of Ve-Go food truck. Courtney bought the food truck in June 2019 and regularly parks outside local breweries, where he convinces meat eaters to try his wheat-based barbecue ribs and crabless crab cakes.
American palates increasingly tolerate, even enjoy, tempeh instead of tuna. The number of Americans who eat vegan food has risen from an estimated 290,000 in 2004 to 9.7 million in 2019, according to a study the British retail analytics firm Ipsos Retail Performance published last year. (That number doesn't include vegetarians, who still eat dairy and eggs, or "flexitarians," who only occasionally go meatless.) You don't have to invest fully in a vegan diet to eat and enjoy vegan food.
Most of Dee Hairston's customers at Dee's Vegan To-Go—about 80%—aren't vegan, she says. They just like her food. Her jambalaya topped with Beyond Meat vegan sausage; coconut cream-based "Mac and Cheeze"; and stir-fry with "chicken" made from plant-based proteins are her most popular dishes. She fries the vegan chicken, as she would real chicken, and adds a medley of herbs and spices to tofu to replace the bacon grease and salt pork that soul food chefs use to flavor meat.
But one soul food staple she hasn't been able to make vegan? Oxtails.
"That's not supposed to be vegan!" she says, laughing. "Nope, nope, nope!"
---
Dee's Vegan To-Go, 1540 West Blvd., Ste. 100, 980-430-3856
Don't leave this takeout-only spot without one of Chef Dee's baked goods. It's a tasty treat after the spicy jambalaya.
Best of Both Souls, 2200 Thrift Rd. (inside the City Kitch building), 704-270-9998
This mostly takeout restaurant has some of Charlotte's best Nashville hot chicken, vegan or not.
Ve-Go food truck, locations vary, 704-351-1928
Choose jerk "chicken," calabash "shrimp," or country-fried "steak" at this food truck, which is usually parked outside one of Charlotte's many breweries.
Soul Miner's Garden food truck, locations vary, 704-713-5661
With temporary homes outside a number of regional breweries, this vegan food truck dishes up barbecue jackfruit sliders and collards without the bacon grease.
Vegganers Luck, locations vary, 310-867-9531
This "ghost restaurant" is pop-up only, so follow it on Instagram to locate its vegan brisket and pecan pie.
Veltree, 7945 N. Tryon St., Ste. 110, 980-355-0075
Good luck choosing between the "Not Popeye's" sandwich and the vegan shrimp po' boy sandwich at this University City spot.