Veni Vidi Ceviche: A Visit to Calle Sol Latin Café in Plaza Midwood
The story behind it—and what to order there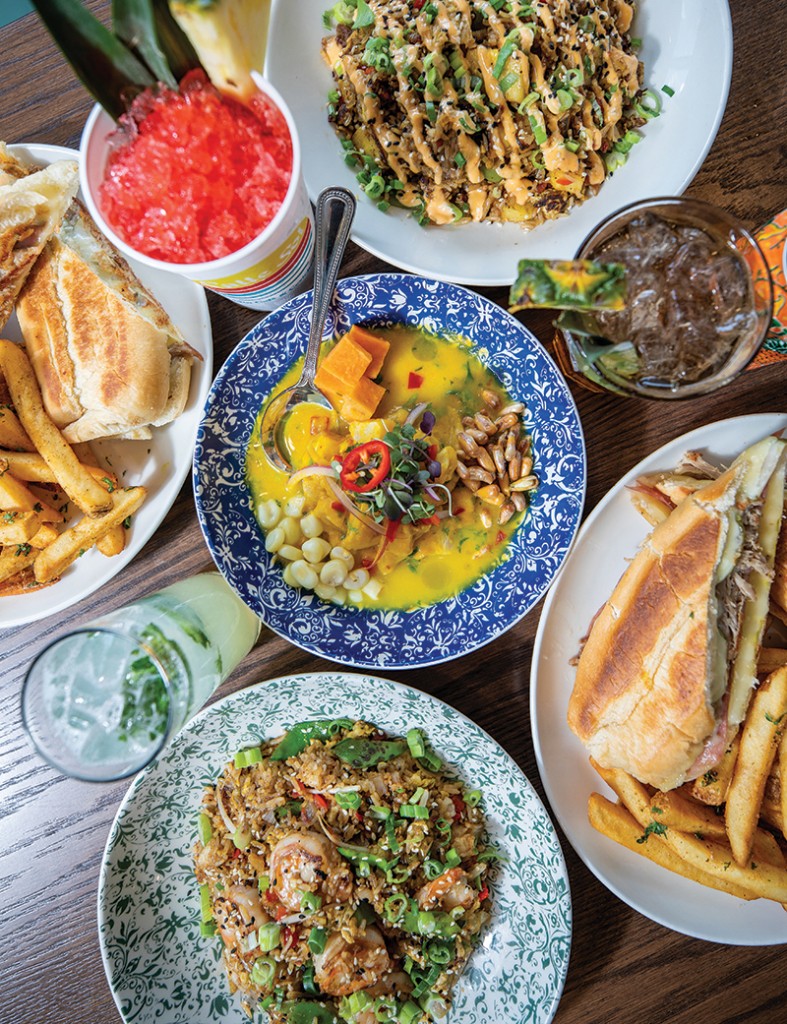 OVER A PLATE of tuna tiradito, I ask restaurateur Frank Scibelli about the personal nature of his restaurants. Little Mama's in SouthPark echoes the old-school Italian restaurants of his New England youth; Midwood Smokehouse, now with five locations, paid tribute to regional history and Scibelli's visits to Houston's legendary Otto's Barbecue & Hamburgers. What memories inspired his newest spot?
Part of the spark for Calle Sol Latin Café in Plaza Midwood, he says, came from visits to Cuban and Peruvian neighborhoods in Florida. That's why Charlotte's first cevicheria, which opened in July, has the warmth and decor you'd find at a neighborhood joint in Tampa's Ybor City. The transformation startles in this particular space, a 2,900-square-foot building that recently housed Bruce Moffett's nautical-themed shore food venture N.C. Red. But its most famous resident was the Penguin Drive-In, a beloved burger joint whose new owners plan its resurrection on East Boulevard in Dilworth.
Another influence for Calle Sol, Scibelli adds: the personal interests of other FS Food Group members. Chef Paul Cruz, previously of Mama Ricotta's, and sous chef Alfredo Galarza have personal histories with Latin comfort food. Dishes use plantains, tropical fruits, and aji amarillo peppers, initially sourced from Galarza's native Peru and now grown in partnership with Barbee Farms in Concord.
The Aji Amarillo option on the ceviches menu ($14 small; $20 large) is served with sweet potato, corn, and crispy canchas (corn nuts). Other ceviche options at the same price include include Classic, Rocoto, and Mexicano. A ceviche menu adds options rarely found in Charlotte, and the sandwich menu takes advantage of the city's lacking Cuban sandwich choices. Both the Tampa Cubano ($12) and Miami Cubano ($11) have sweet ham, lechon, mustard, pickles, and Swiss cheese on toasted Cuban bread. The Tampa variation, though, adds salami and mayo. (Get that one.)
The most adventurous part of the menu is its Chino-Latino section, with a blurb on how Chinese immigration to Latin America in the 1800s created a culinary subgenre. Cuban Fried Rice ($10) gorgeously blends those tastes, while the wok-cooked Chaufa ($12-$13) comes in shrimp, pork, and chicken variations.
Everything's new at 1205 Thomas Ave., but it's still difficult to separate memories of the Penguin—especially since the iconic sign still stood outside upon Calle Sol's opening. Scibelli embraces that history and originally intended to leave the sign up—before the announcement of the Penguin's return. To avoid confusion, FS Food Group is giving it to the Plaza Midwood Neighborhood Association.
FS Food Group's own familial connection to Plaza Midwood—the original Midwood Smokehouse and a Yafo Kitchen on Central Avenue—inspired the group to add their own symbol to the neighborhood. Artist Randall Kane painted an exterior mural, modeled after a well-known public painting in Miami that announces the Little Havana neighborhood on Calle Ocho (Eighth Street). Even before the Calle Sol opening, Kane's work drew daily packs of selfie-seekers.
Will Calle Sol endure long enough to create its own legend on Thomas Avenue? It's hard to say. But in bringing a new look, atmosphere, and palate to Plaza Midwood, FS Food Group certainly knows how to make a first impression.