Viet Thai's Enormous Pho
The Asian eatery's takeout pho is not to be trifled with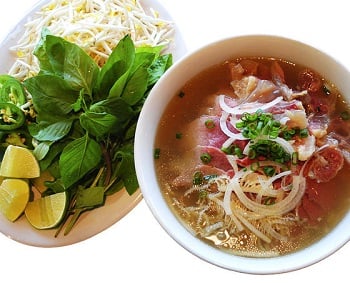 The Vietnamese noodle soup pho seems to be pretty well loved here in Charlotte. Asking readers and writers alike who makes the best pho in town can lead to some pretty heated discussions.
Since this writer lives and works in Ballantyne, finding good pho in the southern Charlotte region has become a personal quest. Viet Thai Noodle House on Pineville-Matthews Rd. was one pho-serving restaurant that I'd heard was a top contender. However, getting pho as take out can prove to be tricky.
I ordered the Pho Dac Biet which is a combination of rare beef, well-done beef, meatballs, and tendon. Call me weird, but I like to go for the most interesting options when ordering pho.
Upon picking up and getting ready to dive into my soup, I noticed the two different containers this takeout soup came in. The first was a large typical quart container, holding the broth and meatballs of the pho. Hmmm, okay. The second was a large styrofoam take out box which contained no less than a full cup of fresh cilantro, a full cup of fresh basil, at least a full cup of bean sprouts and slivered white onions, several very fresh slices of rare beef, a few pieces of well-done beef, four to five pieces of tendon, a handful of jalapeno slices, a few lime segments, and three sauces (hot chili paste, fish sauce, and hoisin sauce).
GOOD LORD. I was so excited that even though I couldn't sit down at Viet Thai to enjoy my pho, I was getting the same amount of pho fixings and broth to tailor my soup. And, by the way, it was delicious. The broth was light but flavorful while all of the meat was perfectly cooked, tender, and well-accented with the plethora of herbs and toppings. After eating at least half of the pho (and being very, very full), I can say with confidence that Viet Thai is my new go-to for the yummy Asian soup.
So, if you thought pho is only an eat-at-the-restaurant adventure, I tell you you're wrong. Just be ready for the leftovers.