View From The Top
A guide to Charlotte's rooftop venues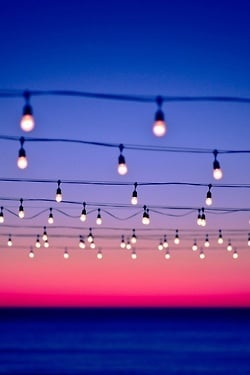 Be it for rehearsal dinner or reception, al fresco dining always makes for an enchanting evening. Pair it with an unbeatable cityscape view, and the ambience is heavenly. Following the official welcome of summer, fireflies scattered across a night sky, cool night breezes and front porch sitting have finally become a nightly standard again. So why not take advantage of the temperate weather a Southern summer offers and plan for a wedding festivity with a view? Enjoy the sweet summer nights before they subside and the first leaves of autumn fall. We've scouted out all the best Queen City locations for your picking. From the heart of uptown to the artsy effervescence of Plaza Midwood, we've got all the communities covered.
Blackthorne
Specs: For those looking for a Ballantyne gem, this restaurant fits the mold with a large dining area, ample seating and a picturesque view.
(704) 817-5554 for reservations
Foundation For The Carolinas
Specs: With a sprawling terrace and additional spacious balcony featuring a stunning live wall, this uptown venue feels utterly magical.
(704) 953-4500 for reservations
Ember Grille & Terrace
Specs: The restaurant located in the Westin uptown boasts floor to ceiling windows span across the periphery of the dining room with an adjacent open-air terrace.
(704) 365-2700 for reservations
Holiday Inn City Center
Specs: A rooftop rotonda on the hotel's 15th floor offers a stunning view from the heart of uptown. They also have a variety of all-inclusive packages.
(704) 335-5400 for reservations
Hyatt City Center
Specs: The centrally located hotel boasts a beautiful rooftop terrace with pool and ample seating.
(704) 357-8555 for reservations
The Bechtler Museum of Modern Art
Specs: For an intimate gathering, their second floor terrace couldn't be more romantic or picturesque.
(704) 353-9215 for reservations
The Mint Uptown
Specs: The Trustees Terrace of this sleek, modern building gives an unobstructed view of the metropolis.
(704) 337-2000 for reservations
The Pavillion at EpiCentre
Specs: For the grand affair, this sprawling space provides 25,000 sq ft of open air seating.
(704) 609-4010 for reservations
The Peculiar Rabbit
Specs: A Plaza Midwood backdrop offers a vibrant change of scenery for those looking to venture out of uptown. Ideal for a low-key, casual dinner.
Email jason@thepeculiarrabbit.com for reservations
Roof With A View
Specs: This uptown terrace overlooks Bank Of America Stadium. Ample parking on street and in large attached parking lot.