Vine American Kitchen
The new Ballantyne concept takes on the traditional steakhouse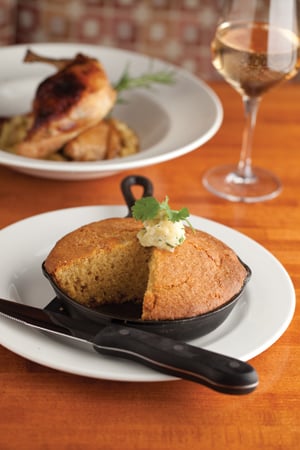 It's a brisk Sunday night, and Vine American Kitchen is bustling. A few children weave in and around their parents and other patrons as they wait, pagers in hand, for their tables. Vine is the latest addition to the city's burgeoning roster of upscale casual eateries, and from the looks of the cheerful crowd, it's a welcome one.
The new concept was created by Charlottean Bill Freeman, most recently the CEO and director of McCormick & Schmick's. With its simple, elegant layout and snug seating, Vine seems familiar in a chain restaurant kind of way—while a large display kitchen and exposed brick make it feel luxurious and upscale. At one corner, a circular room, the Fireside Terrace, boasts cushy couches and a fireplace; the Barrel Room, a small private dining room, takes up the opposite corner. It's comfortable and family friendly. In short, it's almost exactly what you'd expect from a former executive of an upscale restaurant chain.
The McCormick & Schmick's steak-meets-seafood influence is also evident on Executive Chef Paul Cruz's menu: traditional steakhouse standards including pear and blue cheese salad ($9), Maryland-style jumbo lump crab cakes (available as a starter or entrée) and prime rib dip sandwich ($14) keep company with Southern favorites, such as jalapeño cornbread ($4), served warm in a cast iron skillet and topped with jalapeño butter, and fried green tomatoes ($7), topped with goat cheese and sherry aioli.
Standouts include an ahi tuna tartare ($14), bright and fresh, arriving finely chopped, with capers, egg, and red onion, and served with salty, crispy wontons, and a roster of flatbreads such as the Classic BLT ($10), topped with bacon, tomato, and arugula, on a crispy, thin crust. An aromatic mound of jambalaya ($17) comes topped with a grilled jalapeño and is fluffy, not soupy—best eaten with a fork instead of a spoon—and packs just the right amount of heat.
Oenophiles will appreciate Vine's beverage program, which features more than 100 wines by the bottle, many under $30. In addition, more than 40 wines are available by the glass—20 of which are kept fresh in a wine refrigeration system.
There's room for refinements and tweaks if Freeman and crew have plans to expand this new concept beyond Ballantyne. (One suggestion? Ask servers to wait to vacuum up crumbs until neighboring tables are empty.) Overall, however, with its large bar area, Vine is a strong candidate for a happy hour gathering, and with its oversize leather booths and approachable menu, it's an elegant option for couples and families, too.