Vintage Charlotte Summer Market Returns June 3
Shop more than 80 regional vendors for home goods and other handmade treasures.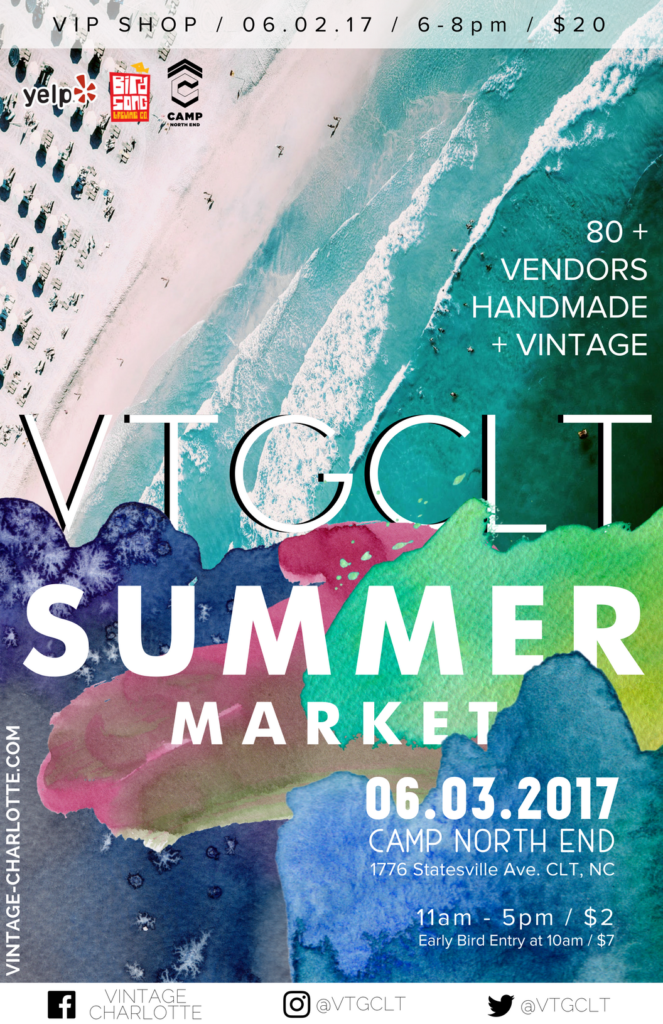 Setting up shop at newly established Camp North End (1776 Statesville Ave.), Vintage Charlotte is hosting its sixth annual summer market on June 3. Featuring more than 80 regional vendors spanning a variety of artisanal offerings, the VTGCLT Summer Market will run from 11 a.m. to 5 p.m next Saturday. For those who are unaware, Camp North End is the old Ford Model T factory, and this historic venue will be transformed for this event into a vintage-lover's haven.
The market celebrates makers from all over the Charlotte region, presenting all kinds of handmade and antique home goods that make great gifts and one-of-a-kind home furnishings. There will be housewares, furniture, decor, jewelry, clothing, and more.
As for the shopping experience, the first 500 guests will be given shopping bags courtesy of Yelp Charlotte. Caffeine will be provided by Not Just Coffee, and casual imbibing is encouraged by Birdsong Brewing Co, the onsite beer sponsor. Live music and bites from Bleu Barn Bistro, The Dumpling Lady, and King of Pops will all be in the boiler yard to extend this event into more than just a shopping site. There will also be an art installation from Studio Cultivate.
Since this pop-up market is known to bring in more than 4,000 shoppers each time, there is a VIP Shop held the Friday before the market (June 2) from 6 to 8 p.m. for those who are serious about snagging the first of the goods. Tickets for the VIP Shop are limited. They are $20 and give you an exclusive chance to shop the vendors before the masses on Saturday. The VIP ticket also grants you a Yelp shopping bag and a beer from Birdsong. Click this link to purchase VIP Shop tickets.
Tickets for the Saturday event are $7 for early bird entry at 10 a.m. and $2 for general admission from 11 a.m. to 5 p.m. Parking is free.
For more information on the event, visit the Facebook page. For more information on Vintage Charlotte, visit their website.