Vintage Charlotte Summer Market
Shop the wares of more than 80 vendors at this pop-up event on Saturday (VIP event on Friday)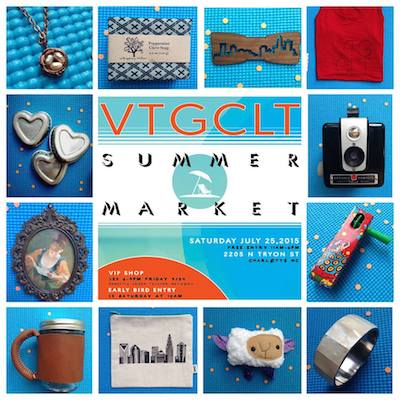 The fourth-annual Vintage Charlotte Summer Market pops up this weekend. The market includes more than 80 vendors of goods that are vintage, antique, or handmade.
This year's market is the largest yet. The group of vendors was curated by a panel that selected for high quality and variety.
The market also includes a few new features. First of all, the market has a new location. Vendors will fill an empty warehouse at 2205 N. Tryon St.
Also new this year, the market will hold a VIP Shop on Friday, July 24, from 6 p.m. to 9 p.m. VIP shoppers get the advantage of being first to peruse the vendor booths. VIP tickets are $25 and include a tote bag from Enemy to Fashion, a pint of beer from Sycamore Brewing, and food bites from Fit You Meals and Heirloom. Nonprofit partner Green Teacher Network Charlotte will also conduct a silent auction. The VIP Shop is limited to 300 people. Click here to purchase tickets.
"The market can be crowded and energetic," says Amy Herman, market founder. "Not all people like to shop under those circumstances."
Antique and vintage items are often rare or one-of-a-kind, so being first is sometimes a customer's only chance to snag a special piece.
The market will also offer an early bird admission on Saturday, July 25, one hour before general admission. Early bird admission is $5; general admission is free. Saturday's market runs from 11 a.m. (10 a.m. for early birds) to 6 p.m.
"I think it's resonating for the same reason I started the market in the first place," Herman says of the market's growth. "I wanted to shop local … and see the community come together. It resonates in Charlotte particularly because Charlotte wants to support itself. There are so many people with such pride about Charlotte."