Vintage Charlotte Winter Market
Next Saturday, more than 60 local and regional vendors pack The Fillmore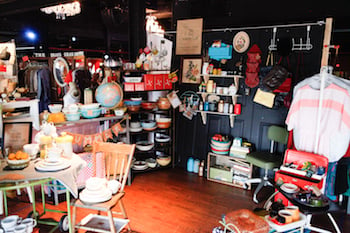 When Amy Herman moved from Chicago to Charlotte a few years ago, she looked for a place to exhibit her vintage clothing and household items. She couldn't find a market like the ones she knew back in Illinois. So she started her own.
This year's Vintage Charlotte Winter Market is the third-annual event. More than 60 vendors will set up inside The Fillmore with vintage and handmade goods on Saturday, November 15. At first, Herman had to seek out vendors. But this year about four times as many vendors applied as can be accepted. Artists and vintage collectors participate in the juried selection process to maintain the market's high quality.
The majority of the vendors are from Charlotte, including recent Charlotte at Home subject Powder Studio. Many of the vendors don't have storefronts, so the market is an opportunity for them to meet and interact with customers. And customers can ask questions and hear the stories behind the products.
"It's important for Vintage Charlotte that the customer gets to meet the person behind the brand," Herman says.
About 2,500 people are expected to attend the single-day pop-up event. For $5, customers can enter at 10 a.m., one hour before general admission, which is free. For those who don't opt for the early admission, Herman recommends arriving when the market opens (at 11 a.m.) for the best selection. The market closes at 6 p.m.
"Setting it up and tearing it down in one day is a lot of work, but we love it," Herman says. "I hope shoppers walk away feeling that."