Violins of Hope Opens in Charlotte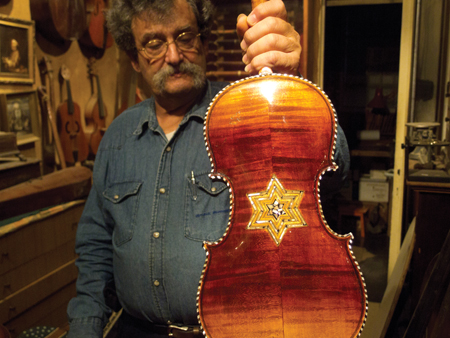 Violins of Hope are telling the stories of the Holocaust this month in Charlotte, reminding us what can happen when evil assumes power.
Eighteen violins rescued from the Holocaust and restored by Israeli violinmaker Amnon Weinstein are at the heart of a dozen concerts, exhibits and other programs through April 24. Visit www.violinsofhopecharlotte.com for the schedule. Profiled in the February issue of Charlotte magazine, the violins were brought to town by UNC Charlotte's College of Arts + Architecture. The plaintive sound of the violin, Weinstein says, offers another open door to try to fathom the murder of six million Jews and five million others at Hitler's hand.
On a gorgeous Thursday afternoon in uptown Charlotte, twenty-nine eighth-graders at Alexander Graham Middle School crowded around the violins on display at UNC Charlotte's new building on Brevard Street. Members of the school orchestra, they stared at the fragile instruments behind glass, including the one that came from the Davidovitz family. It had been played in the men's orchestra at Auschwitz. To the Nazis, the music helped keep prisoners marching in step. To those soon to die, the music provided perhaps a last measure of peace.
Angel Paez understood, even though he could not see. Blind since birth, the fourteen-year-old has learned to play the violin. He has come to understand the power of the music. And with his teacher's help, he embraced the meaning of these instruments on display.
"I think it's really cool," he said. "After all that these violins have been through, the fact that they can be played again…" The sound they make, Angel says, "It's clear, it's rich, it's kind of like it's talking to you in a high-pitched voice."
And what are the Violins of Hope saying?
"They're saying, 'Keep playing.'"
Ken Garfield is director of communications at Myers Park United Methodist Church. His profiles of ten Charlotte Holocaust survivors in the November 2009 issue of Charlotte magazine and online are on display at the Levine Museum of the New South through Sept. 9, along with photographs by Chris Edwards.