Viva Raw Takes It to the Streets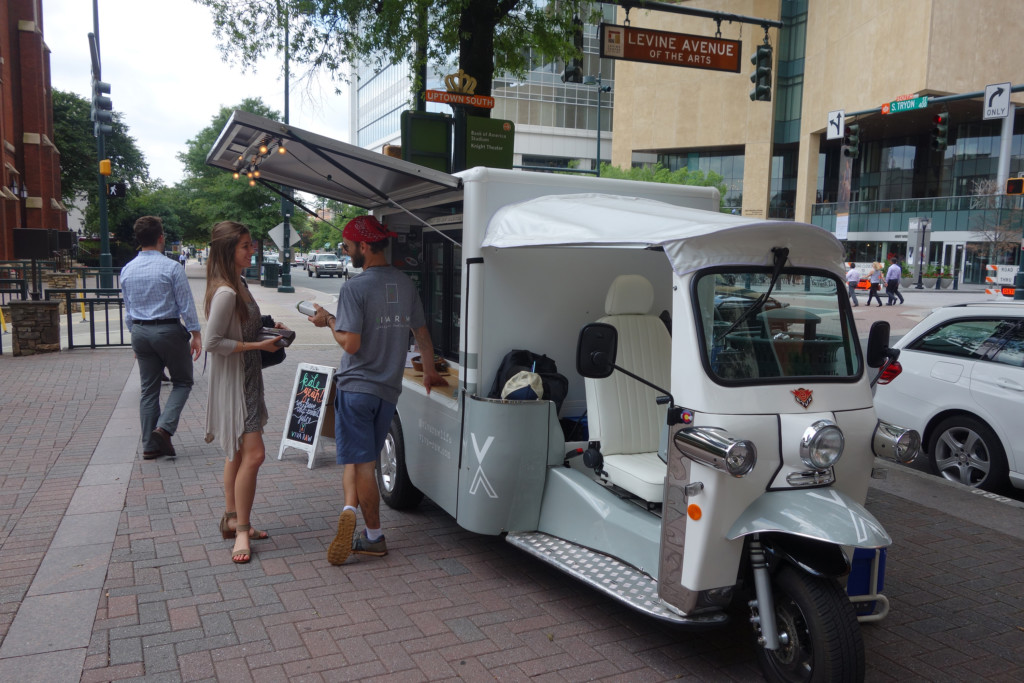 Since 2011, Viva Raw has given the health-conscious a local option for fresh, unpasteurized juices. If you've ever visited the 7th Street Market, you've probably seen their juice bar by Not Just Coffee, giving patrons a different sort of fuel for their day.
Now the Charlotte-based company has taken their product to the streets, using the only electric tuk tuk in the Carolinas to bring their line of juices and raw snacks to busy places in and around Uptown. A tuk tuk, also known as auto rickshaw, is a three-wheeled vehicle commonly found in Southeast Asia and Central America.
Besides providing patrons with easy access to nourishing pick-me-ups, the tuk tuk gives the Viva Raw staff more chances to interact with their community, so they can field common questions like, "What exactly does raw mean?" AJ Rotella, who does sales for Viva Raw, says that "all of the stop light interactions with people" is his favorite thing about being on the tuk tuk.
Founder Scott Harris and team source many of their ingredients from local farms for their juices, taking into account seasonal availability while also crafting each to meet specific nutritional needs. Several "milks" provide a protein boost derived from plants, including the Cacao Almond Bliss, a satiating drink whose flavor far surpasses that of any replacement shake out there. Harris is passionate about the many benefits of their raw juices and milks, starting the company after experiencing them firsthand.
While nutritional benefit to the body is their greatest concern—they keep a certified food scientist on staff—flavor matters as well. The Great Fruit juice, made with grapefruit and turmeric, is a personal favorite, and the naturally sweetened Pearfection can help those who struggle to eat their vegetables. With the high summer heat moving in, access to this sort of refreshment can only be a good thing.
Locations range from office buildings to popular exercise facilities, like AIR Charlotte and Okra. Schedule is subject to change; visit the Viva Raw website for updates. In addition to these and the 7th Street location, Viva Raw also provides home delivery to much of the greater Charlotte area.
Viva Raw Tuk-Tuk Schedule
Monday through Friday: 11:00am – 2:00pm The Green (Uptown)
Tuesday Mornings: 7:30 a.m. – 9:30 a.m. The Element (Uptown)
Tuesday Evenings: 5:00 p.m. – 7:00 p.m. Okra Charlotte (Commonwealth Ave)
Wednesday Mornings: 7:30 a.m. – 9:30 a.m. Skyhouse (Uptown)
Wednesdays Evenings: 6:00 p.m. – 7:00 p.m. AIR Fit Charlotte (Providence Rd)
Thursday Mornings: 7:30 a.m. – 9:30 a.m. The Vue (Uptown)
Friday Mornings: 7:30 a.m. – 9:30 a.m. The Element (Uptown)
Saturday Mornings: 9:00 a.m. – 12:00 p.m. Pure Pizza (Central Ave)