Vivace Embraces Autumn
Fall's flavors are getting the five-star treatment at this Italian eatery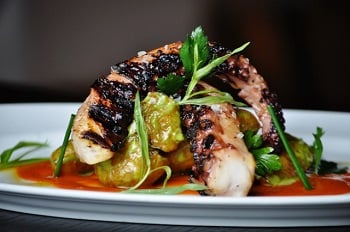 Vivace's new fall menu provides a fresh take on autumn's lush flavors. The menu was developed by the restaurant's new executive chef, Mike Suppa, whose previous experience includes serving in New York as executive chef at The Plaza Hotel Food Hall by Todd English and as executive sous chef at Todd English's Olives Restaurant.
"I love the deep, rich, complex flavors of fall," said Suppa in a press release. "We had a great time developing a menu to make the most of those flavors. But we were careful to honor tradition – and our guests' feedback – by maintaining a number of favorite dishes."
"I can't pick one favorite because the staff and I love everything we've added, but I will say the grilled octopus with fingerling potatoes and green goddess dressing is a standout," Suppa continued.
All primi/pasta dishes are new except for a few standbys, including the four cheese ravioli and pappardelle bolgnese. All secondi/after pasta dishes are new except for veal saltimbocca, another guest favorite (Vivace's version is served on a bed of fresh mozzarella ravioli with wild mushrooms and a tangy brown butter sauce).
Vivace is also offering two new fall-inspired salads. The roasted beet salad features candied hazelnuts, baby beet greens, gorgonzola cheese and hazelnut vinaigrette while the Tuscan kale salad stars pancetta, pistachios, caprino cheese and a fig balsamic vinaigrette.
Who could deny the two new pizzas? The carne pizza is a meat-lovers dream with meatballs, lardo, fennel sausage, 'nduja, mozzarella cheese and cherry peppers. At the other end of the pizza spectrum is the less filling – but no less delicious – vegetable pizza with house ricotta, artichokes, preserved lemon, radicchio, roasted shallots and caprino cheese.
The new dessert menu features some items likely to become favorites. The lemon tart is light and zesty. The Zeppoli, a custard-like dessert, is made with chocolate and apple butter. And pumpkin tiramisu is a sweet homage to everyone's favorite flavor of the season. Even the cheesecake topping – charred pineapple, pink peppercorn caramel and limoncello syrup – is new. The dessert menu was developed by Stephanie Nikolic, executive pastry chef.
I can't think of a better way to combat the newest edition of Polar Vortex: Misery of Charlotte than going into Vivace and warming up with one of these delicious new items!