Vivace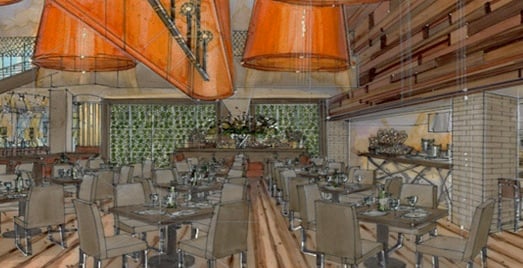 If you haven't been to the new Vivace restaurant in Midtown yet, I'd suggest taking a trip. I'd especially suggest that if you happen to have dietary restrictions. The restaurant, which recently opened across from Trader Joe's in the Metropolitan complex, offers a gluten-free and vegetarian menu. When I arrived there for lunch today, the hostess asked if I had any food allergies before she'd even shown me to my table. This place is a dieter's dream.
I, on the other hand, am not a dieter. My lunch was a braised short rib panini. The Italian sandwich features thick, warm bread, creamy gorganzola cheese, caramelized onions, and romaine lettuce. And it's seriously good. (Side note: I'm a big fan of the braised pork craze that seems to be everywhere in Charlotte right now. What's that? You want to serve me rich, tender meat in various, "modern" ways? Not a problem)
If you don't go for the food, at least go to check out the design. The Johnson Studio, a James Beard award-winning restaurant design group, did it and it's stunning. The restaurant is two stories and even includes a glass enclosed cheese and meat aging room. Also, go at night. The views of uptown's skyline from the second story may be some of the best in town.