VTGCLT Hosting 5th Annual Summer Market
Shop over 60 regional vendors at this eclectic pop-up!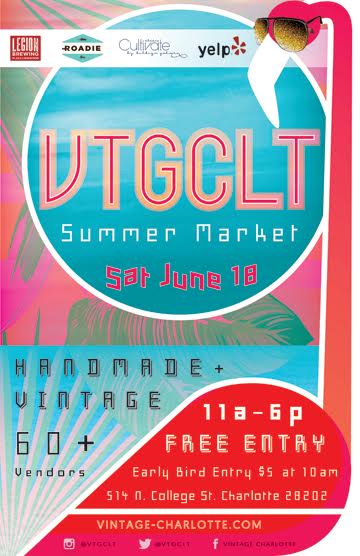 Vintage Charlotte (aka VTGCLT) is hosting their fifth annual Summer Market Saturday, June 18.
Shoppers will get to browse the best of vintage. handmade, and eclectic goods at this once-a-year event, complete with enough incentives to make anyone drop their Saturday plans to make room for some shopping (as if we needed a reason). The pop-up market is featuring over regional 60 vendors that will transform the empty building at 514 N. College Street into a wonderland of curated goods.
The first 500 customers will receive gift bags from Yelp Charlotte, and to keep the shopping buzz going, The Daily Press will also be in attendance to serve up the caffeine. Of the many vendors participating, a few include FROCK Shop, Good Grief Vintage, Hennel Paper Co., House on Central, The Big White Cat, and more.
Owner of Vintage Charlotte, Amy Herman, says, "Every item you find here is either hand-selected or expertly made. In supporting these vendors, we are supporting the artistic vibrancy and economic viability of our local and regional community. Every item has a story: not only do you get to see these incredible goods, but you get to be face to face with the folks who discover or make them."
To help stimulate our local economy and get some great gifts for loved ones (or treat yourself!), you can choose to pay $5 for an early bird entrance at 10 a.m. for first picks at the goods. Otherwise, entrance is free from 11 a.m. to 6 p.m.
Visit the event's Facebook page or VTGCLT's website for additional information.