Walls with Attitude
Homeowners and designers show their style in unexpected ways by dressing up Sheetrock with textures, fabrics, and glass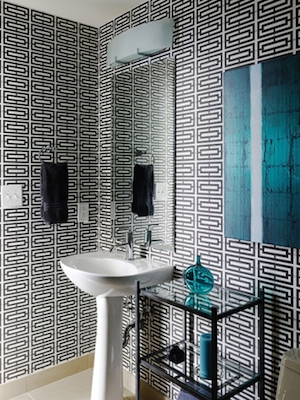 Paint and wallpaper work well, but for a little extra pop, check out these bold designs. Some of our favorite walls from Charlotte Home + Garden go way beyond the paintbrush and wallpaper paste. Click the pictures to see the full stories with additional photos.
Inside this two-bedroom condo at The Vue in uptown, designer Ginger Brewton used contemporary decor to outfit the modern unit. In the powder room, bright blue accents stand out against the geometric, textured wallpaper.
photo by chris edwards
This mountain-like home on the banks of Briar Creek has wooden plank walls that are painted white. The ceiling is made of V-groove boards painted the same color. The white creates a nice contrast with the dark-stained beams.
photo by logan cyrus
Tom Holley of Crazy Jane's design firm upholstered the feature wall in this master bedroom inside a Midtown condo.
photo by joel lassiter
Inside her Myers Park home, Charlotte designer Nancy Maloney put mirrors on her chimney wall. The surface reflects light into her living room.
photo by chris edwards