War Paint: 5Church Charlotte's Interior Art Explained
With decor changes, restaurant recognizes the restaurant game as a multifront battle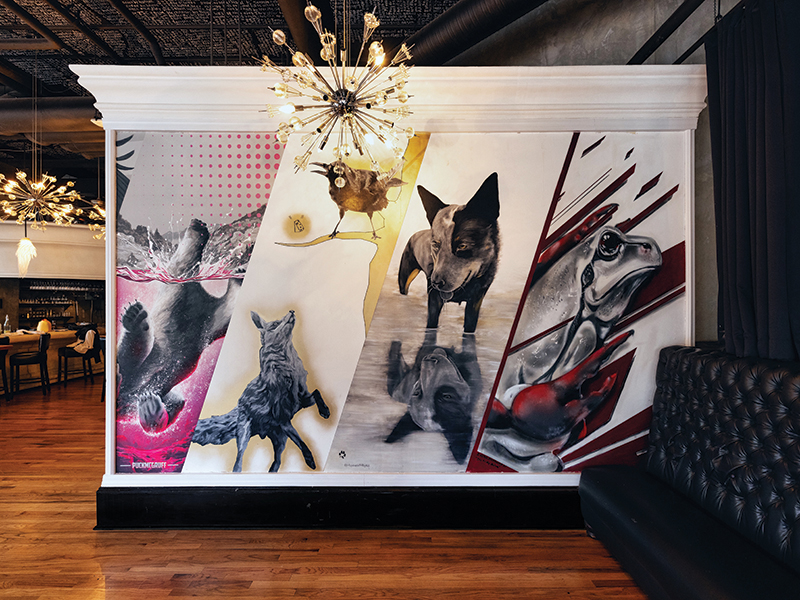 WHEN 5CHURCH CHARLOTTE reopened in February, the uptown restaurant emerged from the pandemic with a new executive chef, Sherief Shawky, and a few new menu items, including a now-popular seafood tower. Another big change: a massive interior mural, courtesy of the artists behind the works in all of 5th Street Group's restaurants. "We felt strongly that if we were to reintroduce ourselves to the marketplace, we had to put our best foot forward," partner Patrick Whalen tells me in May. "We wanted diners to see something they've never seen before, another side of us, which is the same reason chefs may add features to the menu."
The mural wraps around an interior wall and highlights several tales from Aesopica, the collection of ancient Greek fables credited to the slave and storyteller. Among 5Church's illustrated Aesop's fables are "The Wolf and the Crane" and "The Scorpion and the Frog," and the artists who worked on it include Charleston's Honey McCrary and locals Matt Hooker, Matt Moore, Nathaniel Lancaster, Corey McGovern, Brian Michelotti, and Jon Norris.
When Whalen was growing up, his father would read Aesop's fables to him. Today, Whalen says the text still "offers an incredible resource of parables with real-life application," even if the protagonists are often wild animals that talk. The mural's several scenes from the Aesopica are mostly monochromatic, with just a single accent hue for each piece. "Before this, our space lacked color," Whalen says. "This new version of ourselves is more full of color and life and vibrancy. Everyone has colors they're drawn to, and we wanted to give these artists a way to express themselves by using just that one touch in each scene."
Whalen and his team have made decor a priority since their first location of 5Church opened in Charlotte in 2015. They plan to open a new restaurant, Church & Union, in Nashville this year. Among the signature touches they'll bring to Music City: the 13,500 words that comprise Sun Tzu's The Art of War, inscribed in white on a black ceiling. It typically takes painter Jon Norris three months to complete a stylized transcription of the fifth-century Chinese military treatise, having previously done so for 5Church Charlotte and 5Church Charleston. Like the Aesopica, the text is more than just a fun idea that adds to the dining experience: Its words inform how he approaches all of the group's restaurants, including the 5Church locations, La Belle Helene, and Tempest in Charleston.
"Imagine a business model," Whalen says in May. "Sadly, I've written many more business plans than I have businesses. … But imagine following The Art of War's principles when you write down that plan and then try to make it real. These words are a business model for success and for victory. Following them, the business grows, and your people scale with it, and it feels inevitable if you follow the steps correctly. This is our tribute to that."
The group's ability to evolve, as it has with 5Church Charlotte, echoes a central Art of War principle: "Do not repeat the tactics which have gained you one victory, but let your methods be regulated by the infinite variety of circumstances."