Watching the World Cup in Charlotte
It's time for the biggest sporting event in the world, soccer's World Cup. Here's your guide for where in Charlotte to watch all the matches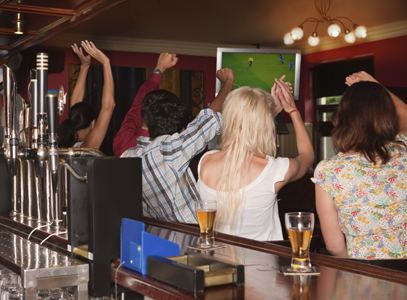 Editor's Note: Correspondent Andy Graves will be blogging at www.charlottemagazine.com throughout the World Cup, sharing his communal game-watching experiences and suggesting places to go to watch the matches. Check back every Monday, at least, and feel free to share your suggestions for other places to watch the matches in the comments.
In much of the world, the month-long World Cup is a deliriously serious time. Work creeps to a halt when the national team plays. Students skip class. Old men wake up early and stay out late. People of all sorts, passionate for what's often referred to as the Beautiful Game, are drawn together to take in the spectacle of the match. Any TV will do, but there must be a crowd.
One hitch, of course, is that matches played during prime time in South Africa are happening first thing in the morning or, at best, just after lunch here in Charlotte. With most preliminary matches—the round-robin, "group" portion of the event—taking place during the workweek, it can be tough for the obsessed aficionado to catch as many contests as he or she might like. That aside, the weekends are full.
The World Cup begins this Friday, June 11, when Mexico takes the field in Johannesburg to confront the host country's squad. Matches continue for a month, until the Coupe du Monde is awarded June 11. Thirty-two teams, sixty-four matches. For many here in the United States, the greatest excitement of the 2010 World Cup arrives Saturday, June 12, at 2 p.m. EST, when the fourteenth-ranked United States, meets number-eight England, in Rustenberg, South Africa. The match is widely expected to draw one of the largest audiences in the history of televised sports.
The USA-England contest is an important one, the first in a round-robin phase to determine which teams advance to the quarterfinals. (Team USA's Group C also includes Algeria and Slovenia, both arguably weaker.) England resides in the upper echelon of soccer powers, along with the likes of Italy, Brazil, Argentina, and Germany, and has won the World Cup once, in 1966. The American side is less exalted. Still, the United States beat powerhouse Spain last year in the Confederations Cup, a sort of warm-up for the World Cup, and while in Saturday's matchup the Americans are the underdogs, this is perhaps the best U.S. squad ever.
Wondering where to catch the World Cup here in the Queen City? Keeping in mind that you can watch the World Cup just about anywhere there's a TV and a friend or two, here is a partial list of some of the most interesting bets we've come up with. Know of other great spots? Feel free to add them in the comments.
Charlotte International Soccer Fest
This family-friendly event on June 12 at the Ramblewood Soccer Complex, on Nations Ford Road, runs from 9 a.m. to 4 p.m. to celebrate the World Cup in South Africa. It's a day filled with fun activities, including exhibition matches, international vendors, children's soccer clinics, and showings of the World Cup games on nine-by-twelve-foot TVs. There will be a 9:30 a.m. match followed by the USA-England match at 2:30. This is the most kid-friendly of our options.
Connolly's on Fifth
115 E. 5th St. Charlotte, 704-358-9070
An Americanized pub, Connolly's is a smart place to catch the match of your choice. A sheet-size projection-screen TV will air matches at the front of the intimate main room while an expanded courtyard features twin large-screen TVs for outside viewing. Like most other super-serious soccer establishments, Connolly's opens early each day to show every match live. This is a fine place for a Guinness or a glass of whiskey.
Courtyard Hooligans
140 Brevard Court, Charlotte, 704-376-2238
Opened within the past year, purportedly for hosting World Cup viewing parties, this small spot is a favorite watering hole of local soccer cognoscenti, which makes it an intimate spot to watch some of the more obscure matches. Your bartenders will know all you could ever ask about the sport, and then some. From the establishment's soccer-ball logo to the team jerseys and national flags strung up on the exposed-brick walls, this is among the bars most dedicated to bringing you the most soccer possible. During larger matches, expect a dense crowd extending outside into Latta Arcade, where an extra-large-screen TV will be set up for weekend matches. This is the official bar of the Queen City Outlaws (see below), and it will open early to show every match live.
Intermezzo
1427 E.10th St., Charlotte, 704-347-2626
A pizzeria and café run by big-hearted Serbs, Intermezzo is the thinking man's place to watch soccer. Exposed brickwork, the cool curve of the bar counter, and half-price martinis every Saturday make this a good spot for truly absorbing each game, not just yelling about it. Proprietor Djordje ("Georgie") has forgotten more about international soccer than most people will ever learn, and he's happy to chat about it. In addition to Intermezzo's eclectic selection of beer and wine, two new patio TVs will show matches played simultaneously in real time. While this is an unequalled choice for any contest featuring this year's excellent Serbian squad, Intermezzo is a friendly, inclusive spot for taking in all World Cup matches.
Jackalope Jack's
1936 E. 7th Street, Charlotte, 704-347-1918
Charlotte's perennial World Cup headquarters is at it again. Step inside and a Carlsberg Beer display directs fans of England, New Zealand, and Italy to the right, France, Demark, and the United States to the left. (New Zealand? Really? The Kiwis don't stand a chance.) With television screens flickering from every bit of available wall space, it's difficult to imagine missing any of the action no matter how congested the place gets. Four years ago, as England and Portugal fought for ninety minutes and brought the tied match to a fever pitch of penalty kicks, Jack's nearly burst. It'll continue to be boisterous during the most popular matches (think: England, the United States, and the big European powers), albeit a bit more roomy this time around, with large TVs at either end of the outside patio and, for the England-United States match, drinks served from a beer truck parked out front. There will be bar babes in soccer jerseys, giveaways, and Carlsberg and Newcastle beer specials.
La Unica
6625 South Blvd., Charlotte, 704-643-5505
The proprietor of this South Boulevard Mexican eatery clearly knows his stuff. His plan: record the many matches that air too early in the day for his customers to enjoy and then show them later, at dinnertime. For the Cup, La Unica offers two big TVs and a sensible home base for matches featuring Mexico, Brazil, and Argentina, as well as other favorites Italy and France. Miss a match early in the day while you were at work? Swing by around 6 p.m. for the rerun. The Mexico-France contest falls on a weekday, June 17, and will be well worth watching later in the day.
The Liberty Gastropub
1812 South Blvd., Charlotte, 704-332-8830
This South End gastropub will be the site of the British-American Business Council's special event on June 12, for the England-USA match. There is an admission fee of $20, a portion of which will provide scholarships to local students to travel and study in Great Britain. You'll still be paying for your drinks at the cash bar, but this is likely to be a coolly refined, albeit enthusiastic, crowd. This one-time event for Saturday's starts at 2 p.m. The Liberty will air many matches, and it features excellent microbrews on tap and more than sixty by the bottle.
Queen City Outlaws
The Outlaws isn't a place to watch soccer; it's an organization dedicated to watching soccer. And for the Outlaws, watching soccer is a participatory sport all its own. Scott Collins, its president, describes his group of unapologetically boisterous, pro-Team USA fanatics as one that "refuses to not be vocal." Taking cues from the enthusiastic and occasionally rambunctious teams in Europe, the Outlaws proudly remain standing throughout the match—chanting, singing, and generally raising a ruckus. The organization of more than fifty members, most in their twenties, calls Courtyard Hooligans its home. For the USA-England match this Saturday, Collins says the Outlaws will have a tailgating event near Hooligans, treating themselves and newcomers alike to a live band and free food from their cookout. Unbridled American-soccer spirit, spunk, and enthusiasm, plus booze: this scene might be your thing or it might not be—plan accordingly.
Rí Rá
208 North Tryon St., Charlotte, 704-333-5554
Decorated with jaunty World Cup paraphernalia, this spacious and comfortable Irish pub features a bar counter as deep and long as Ireland's sorrow at the inexplicably bad officiating that sent France into the World Cup and kept the Irish squad from advancing. Irish pubs make good soccer-watching headquarters, and this one fits the pattern. Your bartenders will be chipper and soccer friendly, and in addition to the several regular TVs, there will be an added large projection-screen TV especially for the event. Not only will Rí Rá open early each morning to show all matches live, but a traditional Irish breakfast will be offered along with the usual good beers.
The Tilted Kilt
13230 Carowinds Blvd., Charlotte, 704-910-5353
This Carowinds Boulevard bar and restaurant features more than thirty high-def TVs, a couple of supplemental big screens, and an almost giddy enthusiasm for the start of the tournament. "England versus USA is the big one," says proprietor Ben Thorman, and he expects fans to come by in large numbers throughout the month. Expect daily drink specials, giveaways, and more at this 2010 go-to World Cup headquarters. The Tilted Kilt will open early for most games and promises to be a comfortable place to catch all Cup matches.
Tres Pesos Bar and Grill
122 W. Woodlawn Rd., Charlotte, 704-525-0710
Opening at 8 each morning, all soccer fans—and especially fans of Mexico, Honduras, Brazil, and Argentina—will enjoy the dozen-plus forty-two-inch screens and two big-screen sets brought in especially for the World Cup to this establishment at Woodlawn and Nations Crossing roads. Expect a staff that knows the importance of the Beautiful Game. This is a fine choice for all matches, and especially games in which the Central and South American sides figure big, such as the Saturday, June 12 morning match between Argentina and Nigeria, or the Brazil-Cote d'Ivoire matchup on June 20.
The Waldhorn Restaurant
12101 Lancaster Hwy., Pineville, 704-540-7047
This authentic German bar and restaurant in Pineville, with oversize mugs of Bavarian beer, is an obvious spot to admire the clocklike precision of the German team, a perennial contender to win it all. A great place for all matches, the Waldhorn has added extra TVs and will offer an expanded buffet. Beer specials will be offered during the matches. Germany takes on Australia on Sunday, June 13, at 2 p.m.
Zoewee's
4112 N. Tryon St, Charlotte, 704-509-5947
This humble, immaculate West African restaurant serves African cuisine that is as delicious as it is authentic. The TV mounted in the corner is small, there is no alcohol available, and Zoewee's is closed Sundays, but this establishment is a natural home to serious fans of this year's handful of promising West African teams, including Cameroon, Ghana, Cote d'Ivoire, and Nigeria. The proprietor, Arnest, is from Liberia. This could be an interesting place to watch Cameroon vs. Denmark, on June 19, or Ghana vs. Germany, on June 23.
Resources:
Adidas's weird, must-see World Cup viewing party YouTube ad
Wikipedia's no-frills World Cup page
Wikipedia's 2010 World Cup page
Statistics guru Nate Silver's alternative world ranking, the "Soccer Power Index"
New York magazine's group-by-group World Cup preview