Way Out: The Hearing Game
Before we discover our favorite music, it must discover us. And that can be a noisy process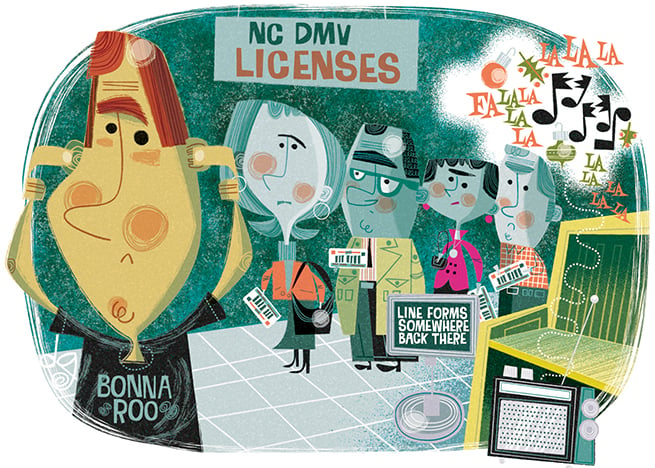 If we get into a discussion about music, I will snob out by telling you about my trip to the Bonnaroo music festival in 2010. It was so awesome, you guys. I stumbled upon Daryl Hall playing a set with Chromeo. I saw Stevie Wonder, Steve Martin and the Steep Canyon Rangers, the John Butler Trio, and the Avett Brothers. I rocked out SO HARD that I fell asleep on a patch of dirt during a Flaming Lips show that started at midnight. I drank a 5-Hour Energy in a failed attempt to stay awake for GWAR's 3 a.m. set; hence, I missed the part where the band sprayed the crowd with fake blood from a large papier-mâché phallus. Except for the dust, the relentless Tennessee sun, and the constant assault of people with backpacks who want to sell you substances of varying legality, it's a music lover's dream. The highest of highs. And I was there.
Back in December, I hit the lowest of lows. I was trapped in line at the license-plate office on Arrowood Road. The decor is feng shui, haphazardly stabbed with bureaucracy chic.
Nobody talked with anyone, unless they were speaking to someone on the phone or arguing with the woman behind the counter about the paperwork needed to register a Mazda. The only sound was that of a small plastic radio, hidden under a bench, tuned to a radio station spitting out hackneyed Christmas songs with the acoustics of the Carnegie Hall hallway. Somehow, this is supposed to make us all feel better about waiting in a long line to pay for one of the least exciting things you can buy.
Think about how much music comes to us, just like that. We live in a corporate city of lobbies, waiting rooms, and chain coffee shops. The music doesn't play a starring role but a supporting one, in which inoffensive notes are piped in at an inoffensive volume. It belies the fact that this area has a rich musical tradition. When it comes to country music, Charlotte was Nashville before Nashville was Nashville. We have the Avett Brothers, Anthony Hamilton, John P. Kee, and Jodeci, the Double Door Inn and the Neighborhood Theatre. And yet for years, Fort Mill was the home of Muzak, a company that sold music designed to make you want to buy something. In Charlotte, there is plenty of music to choose from and plenty that's chosen for us.
Even the worst music makes us do something. We hate-tweet about it. We quietly tap our toes to it. We sing along. We dance. The stuff I heard at Bonnaroo basically gave me enough small talk fuel to fill a year and allowed me, for a time, to keep pace with friends who constantly say, "Hey, have you ever heard of [insert obscure band playing amazing music that'll be everywhere in six months]?" Even the schlock that came from the plastic radio probably saved me from a worse alternative: the keyboard-tapping angsty white noise of the license-plate office.
Once, music literally moved me. One rainy night, my wife and I pulled into our driveway with the windows down and heard a pulsing beat coming from up the street. Like cranky parents, we got back in the car and drove around, trying to find which neighbor was throwing a giant party to which we had obviously not been invited. We started with the surrounding blocks and then spread out, circling, eventually figuring out from which direction the music was coming. After 20 minutes, the music had led us to the parking lot behind SouthPark Mall. There was no party. Girl Talk, a mashup genius, was performing at Symphony Park. The sound had carried, clearly, a mile from the stage to the driveway of our house, which sits on top of a gentle hill.
We sat there in the car, windows down, listening, smiling, and talking about what we'd discovered. Sometimes, the music just chooses you.