Wedding Venue: Olde Mecklenburg Brewery
Olde Mecklenburg Brewery brought local beer to town six years ago. Now with an expanded brauhaus, biergarten, and festhalle, Olde Meck offers a venue that's European inspired and yet distinctly Charlotte.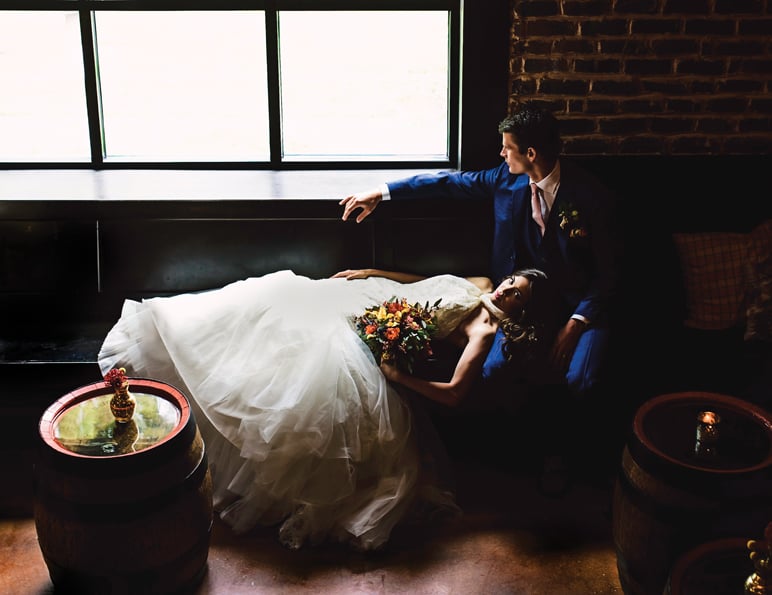 Wedding design by Carla Eustache, Style Perfect Weddings and Events
Photographs by Crystal Stokes Photography
Produced by Maribeth Kiser and Jane Fields
Styled by Erica Hanks
Styling assistant Bekah Blake
Hair by Lindsay Pizzuti, Mirror Bomb Studio
Makeup by Erin Ashley Makeup Artist
Shot on location at Olde Mecklenburg Brewery
Special Thanks to:
Passion8, Estudio RoJo,
Party Time Rentals, BBJ Linens,
Tastebuds Popcorn, FuManChuCupCakes,
From This Day Forward Wedding & Event Design,
Creative Blu,
Extravaganza Events & Props, and AFR Event Furnishings
The rich, dark woods of Olde Mecklenburg's brauhaus provide a base for warm colors. A wreath by Barbara Pedwell-Dearborn of From This Day Forward and a playful sign by Estudio RoJo welcome guests. Olde Meck's signature brews, such as Mecktoberfest, Copper, and Captain Jack, lend local flavor, and the traditional German pretzels function as an accent and a snack. Christian Louboutin pumps, $1,195, Coplon's Charlotte.
---
On Her: Monique Lhuillier lace gown, $6,990, Nitsa's Apparel; Sara Gabriel veil, $195, Fabulous Frocks; Tacori earrings, $1,700, Diamonds Direct
On Him: Luigi Bianchi Mantova Sartoria suit, $1,295, Eton dress shirt, $235, and Bigi tie, $165, Taylor Richards & Conger
---
Inside the festhalle at Olde Meck, bountiful arrangements of tulips, roses, and greenery beckon guests to the table. The simple place settings from Party Time Rentals and napkins from BBJ Linens complement the abundant florals, and Olde Meck's elegant glassware encourages toasting and sipping.
---
On Her: Angel Sanchez gown, $5,544, Fabulous Frocks
On Him: Canali wool suit, $1,895, Eton dress shirt, $235, and Altea knit tie, $145, Taylor Richards & Conger
---
(From top) Invitations by Creative Blu set the tone for the bright, festive event. Yellow craspedia at each place setting paired with blue-and-white napkins carry the color palette through to dinner. Bite-size appetizers from Passion8 make for convenient cocktail-hour nibbles with descriptors penned by Creative Blu.
---
On her: Trina Turk pantsuit, $398, and Serpui Marie clutch, $628, Coplon's Charlotte; Theia lace capelet, $1,700, Ladies of Lineage Bridal Boutique; feather hairpiece, $350, Nitsa's Apparel
On him: Canali wool suit, $1,895, Taylor Richards & Conger; Faherty shirt, $145, Tabor; To Boot New York shoes, $325, Nordstrom
---
(From Top) The biergarten with its colorful mural backdrop provides room for guests to spread out, enjoy some fresh air, and even play a game of corn hole. Passion8 prepares dinner entrees of rabbit roulade with kartoffelsalat and white asparagus, and pork schnitzel with cabbage, fried figs, and anchovies. Olde Meck's tall glasses make an elegant presentation for the fresh brews.
---
ON HER: Amsale crepe gown, $3,200, Nitsa's Apparel; cuff, $325, Amina Rubinacci
ON HIM: Alex Mill plaid shirt, $195, Woolrich suit jacket, $350, and Woolrich pants, $215, Tabor; Drake's pocket square, $95, Taylor Richards & Conger; Mark McNairy camo lace-up oxfords, $495, Tabor
(Clockwise from top left) A rustic "Boston cream pie" cake by Cloud 9 Confections fits into the hardwood setting. The dessert spread includes popcorn from Tastebuds in creative flavors, such as beer, white cheddar, honey-roasted, bourbon-bacon, and dill pickle. Cupcakes from FuManChuCupCakes sound more like cocktails than confections; flavors include salted caramel with bacon, old fashioned, and Irish car bomb.