Weekend Ahead: 2011 Nordstrom Anniversary Sale!
I can already feel my wallet getting lighter...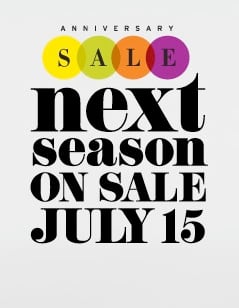 My fellow shoppers, this weekend it will finally be time for Nordstrom's 2011 Anniversary Sale. This, (if you are unaware of it's glory) is great news.
Starting July 15th, Nordstrom's next season styles are making their way to stores, and they're on sale just for us until August 1st when they will return to normal prices. I would suggest getting there ASAP and not waiting until the last minute, because trust me you'll want to get first pick.
So, prepare yourself, and get ready to shop your heart out and get some great deals!
4400 Sharon Road
Charlotte, NC 28200
704.442.6000 Open Mon-Sat 10am-9pm; Sun 11am-7pm