Weekend Ahead: December 17-20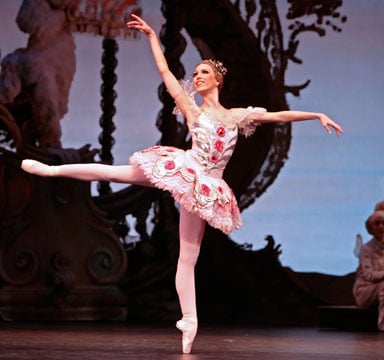 Dear Santa, Please forgive me. I've been a very bad girl. I have neglected my loyal Shop Talk readers during this week of deadlines and Christmas hustle-bustle. I promise I shall never do it again. Please don't move my name to the naughty list. I really, really, really want those knee-high grey Steve Madden boots I asked you for and I'd hate to jeopardize that. XOXO, Jenn
Here is a sampling of the fabulous events going on this weekend!
BAG IT UP – Designer Bag Trunk Show at Interiors Marketplace
Let me lay this out here for you: Marc Jacobs, Prada, Tod's, Fendi – all 50-70% off of retail prices. What the WHAT?!? Christmas is coming about a week early this year, folks. At those prices you can pratically trim your tree in designer hobo bags and clutches. Sigh. What a beautiful tree that would be.
Friday, Saturday, Sunday, 10 a.m. – 6 p.m. 923 Providence Rd.
CRACK THAT NUT – Last weekend for The Nutcracker at Belk Theater
Everytime I think about The Nutcracker, I feel a hot stab of envy deep inside my soul. My childhood bestfriend Whitney got to dance in The Nutcracker several years in a row, and every year, my mom and I would go to see it. I'd be excited for my friend, running around the stage in her adorable "child at the Christmas Party" costume, but inside, I was weighed down by jealousy and regret that my own dance career (age 5-8) had not taken me in a similar direction. Luckily, Whitney also abandoned her dance career before she reached the coveted level of Sugar Plum Fairy. Surely I would have died if I'd had to supportively sit and watch as she flitted around in the worlds greatest dance costume.
Woah. Um. Sorry about that. Didn't mean to turn Weekend Ahead in to Jenn's Childhood Therapy session. The Nutcracker is a classic, and this weekend is your last chance to catch the show until next year. Don't miss out.
Fri, 7 p.m.; Sat and Sun, 2 and 7 p.m. Belk Theater
RING THE BELL – It's a Wonderful Life at Armour Street Theater, Davidson
What would life be like if you weren' t around? Well, if I wasn't around, there would be no Charlotte Shop Talk. THE HORROR! By the way, in my story, the gaurdian angel is played by Mandy Moore (so we can finally become besties) and when the bell rings she and I both get a new pair of Louboutins instead of angel wings. Oh? You are more interested in the original story? Well fine then. It's being performed by the talented actors of the Davidson Community Players and this weekend is your last chance to catch the classic tale on the stage.
Sat, 8 p.m.; Sun 2 p.m. 307 Armour St., Davidson.
BRING A BLANKET – Panthers vs. Vikings
Practical advice from someone who has sat through her fair share of December Panthers games: lugging that blanket from the car is worth it, but try to bring a small purse, otherwise you'll get stuck being the pack mule for everyone's mittens, hats, hand warmers, etc. This weekend Panther fans will finally have something exciting to watch: Brett Farve. Sadly, he plays for the other team.
Sunday, 1 p.m. Bank of America Stadium