Weekend Ahead: December 3-6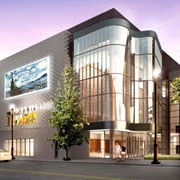 Good morning Shop Talkers!
I've got Johnny Mathis blaring on Pandora and my Mistletoe Yankee Candle burning bright this morning, which means that you should prepare yourself for a very festive Weekend Ahead post! I can't help myself!
Also, are you following me on Twitter yet? If not, hop on over and follow @jenntgrab for even more updates on local sales, discounts and stylish events!
And away we go!
HEAR YOUR FAVORITES – Magic of Christmas performed by The Charlotte Symphony
There is Christmas music, and then there is CHRISTMAS MUSIC!!! This is the latter. All your favorite carols, suites and classic hymns played by the talented Charlotte Symphony Orchestra. There is quite simply no better way to get in the holiday spirit than to attend this concert. Friday-Saturday at the Belk Theater. Visit bluementhalcenter.org for tickets and details.
STUFF A STOCKING – Chan Luu Trunk Show at Sloan
This jewelry designers gorgeous creations recently made an appearance on Oprah's O List in the December issue of her magazine, which means it's obviously no secret how covetable Chan Luu's creations are. That's why you should get yourself to this trunk show and save 20% off all her designs. Visit her website to get insipred before you shop at Sloan! Today through Saturday.
SHOP WITH THE GIRLS – Ladies Night Out at Specialty Shops on the Park
Running holiday errands is more fun with a friend, and even more fun with a cocktail and a snack. Head on over to the Specialty Shops on the Park TONIGHT and shop 'til you drop with special deals, prizes, and yummies throughout the entire shopping complex. Pick up holiday gifts for others (and probably for yourself too) at Mack & Mack, Paper Twist, Beaux Belly, Nesting, William Sonoma, Oilily, Charles Grayson and more. Thursday.
EMBRACE THE KNIGHT – Dedication of The Knight Theater
Bear witness as the newest member of the Charlotte arts community recieves its official dedication this Saturday at 10 a.m. After the ceremony, there will be open house tours of the facility and activities for the whole family…. including the opportunity to SING KARAOKE ON THE STAGE of the Knight. Listen people. I am not available on Saturday to do this, and part of me has died a little inside as a result. There is maybe nothing I love more than karaoke, except being on stage. The very thought of being able to do BOTH AT ONCE has me nearly bursting out of my skin with excitiment. I am begging you, someone, please, do this for me and then email me and tell me what it was like. Please? Oh, also you get a free t-shirt from The Knight if you do it! Saturday 10 a.m.- 4 p.m.
Got an event that you think should be mentioned in Shop Talk's weekend ahead? Email me at jenn.grabenstetter (at) morris (dot) com.